The History of the Term "Rock and Roll," Part 3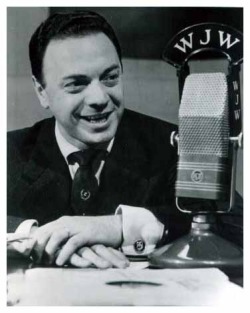 Wait! To get started, you need to check out Part 1 and Part 2.
First, it was an African-American slang term for "sex." From there, "rock and roll" it was used as a euphemism for sex in a series of songs in the 20s, 30s and 40s. And then, in 1948, a singer named Wynonie Harris had a hit with a song called "Good Rockin' Tonight," which inspired a a bunch of new songs featuring the word "rock" in the title or in the lyrics.
The next step of this etymylogical revolution begins on July 11, 1951, when a white radio DJ from Cleveland named Alan Freed began to establish himself as a promoter of rhythm and blues the new name for recordings made by black artists. (Some people called these "race records," but hey, it was the 50s.) He called his radio show on WJW The Moondog Hour.
Freed became a huge radio star. Every night, he would start his show by screaming over an instrumental piece of music called "Moondog Symphony" by a New York street musician named "Moondog." Freed even began calling himself "Moondog" and "King of the Moondoggers" and promoted concerts he called "Moondog Balls."
But then the real Moondog sued Alan Freed, saying that he was stealing his name. So where does the term "rock and roll" come in? The final answer next time.