The Hulk Hogan-Metallica Story That Just Won't Die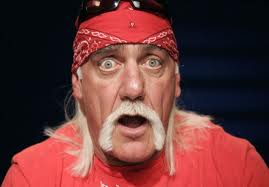 The story is this: when Cliff Burton died and Metallica needed a new bass player, one of the pepople who tried out for the gig was Hulk Hogan. Yes, him,
Blabbermouth summarizes an interview with the Hulkster about the whole thing:
In a brand new interview with U.K.'s Kerrang! magazine (see video below), Hulk was once again asked about the rumor that Lars once asked him if he wanted to join METALLICA as the band's bass player. He replied: "That rumor has been turned and twisted and thrown in so many different directions — that I auditioned and that I lied and that I never auditioned and they weren't interested.
"The truth is I played music for many years before I ever got into wrestling, and when I heardMETALLICA was looking for a bass player, I would have quit wrestling like that [snaps fingers] to get into METALLICA … When I heard they were looking for a bass player, I got my tapes together from the old band, got a couple of tapes together that Simon Cowell produced with me — GREEN JELLY, and I did an old Gary Glitter song, 'Leader Of The Gang', with Simon, back in the day, before he got his break with all the wrestling music and became a huge monster. But I got all that stuff together to send it to METALLICA and never heard a word. So they never responded to me.
"They either thought I was a joke or they thought it wasa joke, and it wasn't me, or I was no good, but I never heard back from them … I tried — but I never did audition for METALLICA. I wish I would have. But the bass player they got was so good. My God!"