The Indie-Only Streaming Music Service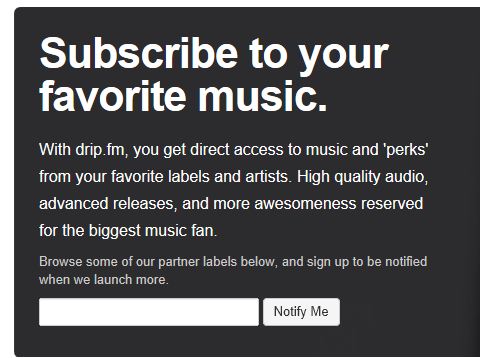 Drip.fm is a subscription service that's different from Rdio, Slacker, Spotify and all the rest. Instead of offering millions of tracks for $10 a month, it only offers a few carefully-selected albums every month.
From paidContent:
Customers subscribe not to Drip.fm as a whole but to individual labels' drips, for fees – like $9.99 – which labels set themselves. Users get new releases, often before widespread availability, as high-fidelity downloads (not streams), and occasional special items like b-sides, remixes or tickets; whatever a label might muster in to a package exclusively for its followers.
The idea is to help listeners reconnect with small labels as trusted curators to good music. Eleven labels including Stone's Throw (Aloe Blacc, Madlib) and Fool's Gold (Vega, Nacho Lovers) currently use the service, which is in closed beta. Sam Valenti, CEO of Ghostly International, the label which started Drip.fm, tells paidContent "hundreds" more are asking to join.
Read more about this new service here.