The Kurt Cobain Solo Album. Wait–What?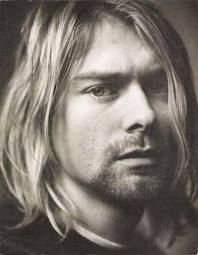 Since Kurt's death in 1994, we've been told that there was precious little unreleased material. Whatever there was came out with that With the Lights Out box set. Or so we've been told.
I've always had a hard time believing that a dude like Kurt wasn't always experimenting with new material whenever he had a moment. Yes, he was messed up much of the time, but as an artist, he had as much of a need to make music as he did to shoot smack.
But as we creep up towards the 20th anniversary of his death, we've been told to expect nothing more. And I believed that, given the amount of money any new and undiscovered Kurt Cobain material would be worth.
Now along comes ex-Hole guitarist (and Cobain confident) Eric Erlandson who says that Kurt recorded an album's worth of solo demos before he died. The problem is that no one has heard them.
Where are these demos? Who has control over them? What's the problem? Courtney? Dave? Krist?