The Loudness Wars: A Legend Speaks Out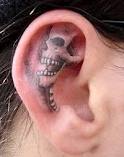 For the uninitiated, the Loudness Wars refers to the trend of compressing recordings so that they seem to come out of the speakers or headphones with the greatest possible default volume.  The thinking is that loud recordings stand out more and garner more attention which equals (so they say) greater popularity and higher sales.
The problems is that making something loud introduces distortion, increases listner fatigue and completely perverts the recording process.  All those subtleties of the performance–the loud-soft dymanics–are squished flat. Add in MP3s, crappy earbuds and the public's acceptance of so-so audio and we've seen a decline of high fidelity.
Bob Ludwig, a master engineering whose name probably appears on more albums than anyone else, has this to say about the recording process in the era of the Loudness Wars.  
…there are very physical reasons why too much compression turns off our music receptors. Every playback system ever manufactured comes with a playback level control. If one is listening to an album, one should be able to turn that control anywhere you want and the absolute level on the CD should not make a difference. Another place level on a CD does not make the difference one would think is on radio broadcast.
It can be shown that in general, loud CDs sound worse and less powerful on commercial FM radio than a CD with a moderate level that lets the radio station compressors handle the loudness problem. Non-classical radio station compressors make soft things loud and loud things soft.