The man on the front of the fourth Led Zeppelin album may have been identified
When Led Zeppelin was prepared to release their fourth album, guitarist Jimmy Page manager Peter Grant wanted to make the point that the band was so big that they didn't need to put the group's name on the album cover. And an album title? What for? Fans would buy the record regardless.
What fans got on November 8, 1971, was artwork featuring an enigmatic figure with a big load of sticks on his back. Was he a witch? A snake catcher? No one knew.
Officially, the album is untitled but has been referred to everything as Led Zeppelin IV to The Hermit to Man with Sticks. It's an iconic image for sure. But who's the dude with the sticks? The mystery may have been finally solved.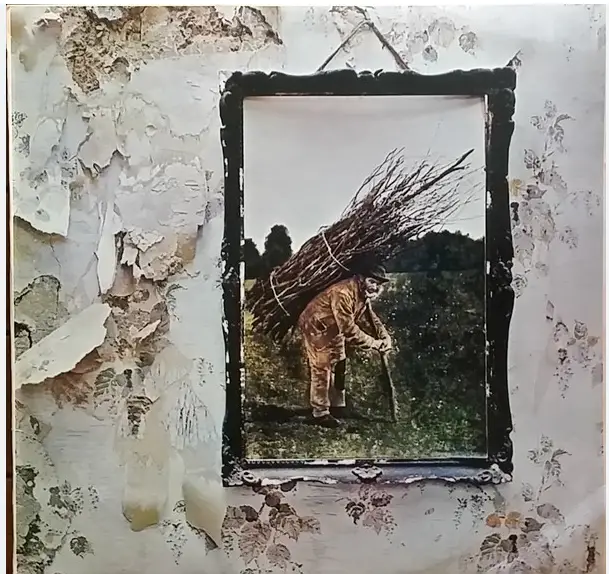 Singer Robert Plant found the figure in an antique shop near Page's home in Berkshire in 1971. It appeared to be an anonymous 19th century oil painting. Or maybe it was a photo. But that's all we knew–until now.
The man in the picture is roof thatcher named Lot Long (also known as Lot Longyear) who lived in Wiltshire between 1823 and 1893. The image was a black-and-white photo taken by Ernest Howard Hfarm, the first person to head up the school of photography at Regent Street Polytechnic. At the time this picture was taken, Lot was a widower living in a small cottage in the village of Mere. What we see is a hand-coloured version.
Here's the original.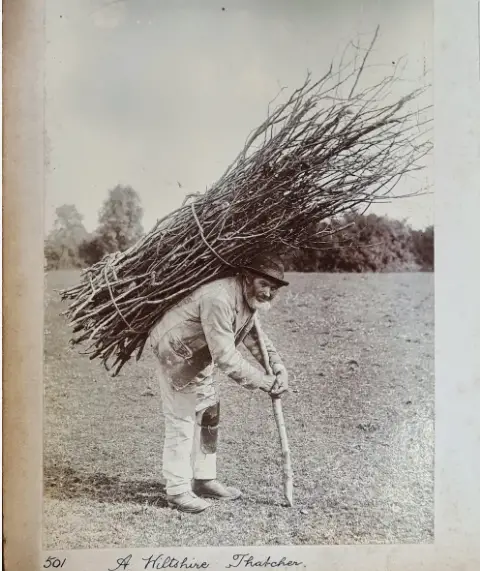 How was Farmer's photo of Lot identified? A historian named Brian Edwards was researching ancient photos of Stonehenge when it came across Farmer's picture. As a Zeppelin fan, he recognized it immediately. The only identification was the handwritten title "A Wiltshire Thatcher." But the picture was also included in big photo album that had the inscription "To Aunty, from Ernest."
I quote from MOJO:
"The first thing you notice is that as a photograph, it's a really, really good photograph and also that the area of the tour being documented was quite a tight area geographically," explains Edwards. "We had those clues, plus the name Ernest and as a bit of a stroke of luck I happened to remember that a lot of early photographers were also chemists. I only knew of one chemist in Wiltshire operating in the mid-century called Farmer, so I looked him up and he left Wilshire to start up a photography business in Brighton. He had three sons, one of whom was called Ernest. This Ernest not only went on to become a photographer but also a teacher of photography and became quite well known. Fortunately, I found his marriage certificate online and there were handwriting matches with the words in the photo album."
Boom. Mystery solved. And it only took 52 years.
Lot died a year after the photo was taken. I wonder how he'd feel if his image adorned close to 40 million album covers?