The Man Who Bought Ian Curtis' House Will Open Up the Kitchen to the Public
Sometime in the early morning hours of Monday, May 18, 1980, Ian Curtis, singer of Joy Division, decided he'd had enough. Putting Iggy Pop's The Idiot on the stereo, he hanged himself from the clothes rack in the kitchen of his modest house at 77 Barton Street in Macclesfield, a suburb of Manchester.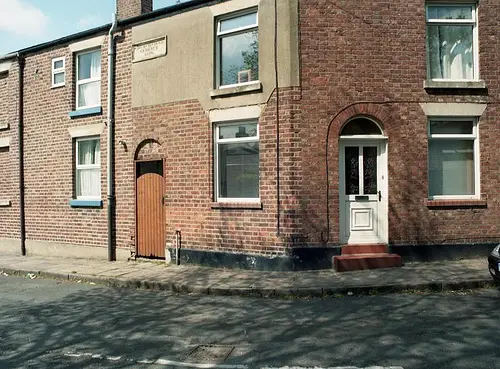 Later, when Joy Division became legendary, the house became a pilgrimage site for fans, even as it passed from owner to owner. Back in February when the house went up for sale again,  a group of fans tried and failed to raise enough money to buy the place with the idea of turning it into a museum. That's when Hadar Goldman stepped in. He talked to the new owner and persuaded him to sell again by offering a £75,000 premium over the £125,000 purchase price.
So what will become of the place? The Guardian reports:
Goldman accepts that the house is not a piece of art in itself, but says that it possesses a "raw energy" that he can now harness for good. He wants it to act not only as a Joy Division museum, but also as a digital hub to support musicians and other artists across the world.
[…]
Would he open up the kitchen to the public – something fans had originally promised not to do, for fear it would be too macabre.
"Yes. Yes. Yes. Of course! You create demand by forbidding stuff," he says, adding that he has visited the house and "what happened there in the kitchen … it's not there, you could not have felt it."
Read the whole article here.