The Miracle of the Joey Ramone Street Sign
[Tom frequently recommends stories and links to this site. This time, though, he has a story of his own. – AC]
A long time ago, in a New York City suburb far, far away, four ne'er-do-wells in Forest Hills, Queens, got together to make some music. Joey, Johnny, Dee Dee and Tommy Ramone soon introduced the world to punk rock. Over the years, CJ replaced Dee Dee, Tommy was replaced first by Marky, then Ritchie and for two shows in August 1987, Clem Burke replaced Ritchie (as Elvis Ramone). Then Marky returned for good. Joey and Johnny remained in the band through thick & thin until the band's final show on August 6, 1996.
The band was inducted into the Rock & Roll Hall of Fame on March 18, 2002, 11 months after Joey's April 15, 2001 death from lymphatic cancer. And then, another honour. On November 30, 2003, a section of 2nd Street, at the corner of The Bowery, just above CBGB, was renamed Joey Ramone Place, in honor of Joey Ramone.
Myself, being a long time, die hard Ramones fan, even 19 years after their last show, had a back burner idea of how to get one of those Joey Ramone Place street signs, short of committing a criminal offense (it's is the most-stolen street sign in NYC).
Fast-forward to early August 2015. A friend said she would be going to NYC in October 2015 and my idea moved to the forefront: How to get my own Joey Ramone sign?
I asked my friend if she would either shimmy up the pole and get the sign for me or pay a neighborhood kid to do it for her. She politely declined to do either suggestion. No one wants to go to jail in NYC.
At least 100 or so Google searches and subsequent emails were sent to the numerous music and music memorabilia stores, John Holmstrom (the editor of the former Punk magazine as well as other projects based in NYC), the Ramones website itself and even Mickey Leigh, Joey's brother. The question was simple: Where can I purchase  a replica Joey Ramone Place street sign.
The replies started coming back:  Nope, zero, zilch, nada. No one had any idea, only to refer me to Amazon or a similar website to shop online. That didn't sit well with me. It didn't seem…appropriate.
And then, on August 27, a light bulb idea. Being it a street sign, it would have to have probably been made by the New York City Department of Transportation which does all things related to street signs, street maintenance, and infrastructure. An email was sent to the NYC DOT with the same question. The next day I received a reply and, much to my surprise, the Director of Sign Sales replied. They do make replica street signs for all of the original street signs around NYC  and will ship them to customers after payment is received as there is no business which sells them.
One small problem:  they don't ship internationally.
Enter a wonderful cousin in Bismarck, North Dakota, who would order and pay for the sign, have it shipped to her, and then she would mail it to me.
On September 30, I received the sign and it is glorious. The sign even has the reflective coating as an original sign, for drivers to see it at night. The picture with the sign flashed out is just that.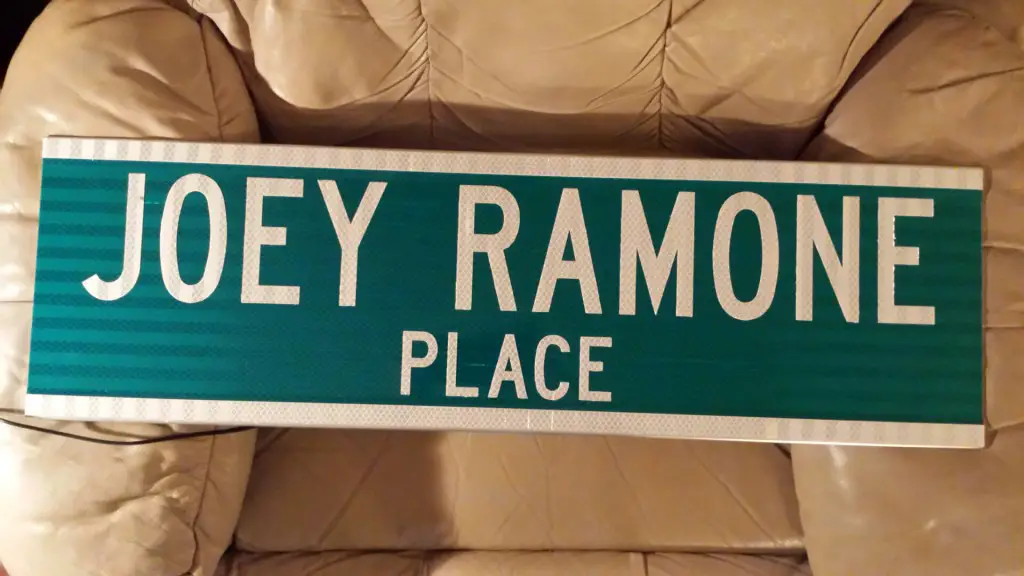 Thirty inches long, 9 inches wide, weighing approximately 5 pounds. It is only decaled on one side due to legal reasons (a replica cannot have both sides decalled, so people don't change a real street sign to the replica sign).
The sign came with three pre-drilled holes in the event anyone wants to hang it from a pole–which is what I did.
Side note:  The friend who is still going to NYC in October chose to do an uber awesome thought, and surprise me with the Amazon version of the street sign. It is 20 inches long, 5 inches wide and weighs maybe 1 – 2 pounds. Words fail me on that gesture by her. It is a definate "D'awww" moment.
The sign itself was $32 USD plus shipping and handling. Yes, that it is a really sweet deal. The six-foot pole was $10. The Christmas tree stand for the pole was $5.00, which I also found on Kijiji. It works wonderfully.
In the immortal (and misquoted) words of Sidra (Teri Hatcher's character from Seinfeld), "They are both replicas…and they are both spectacular!"
Gabba Gabba Hey!