The Most Unwanted Album Christmas Gift of 2012? 21 by Adele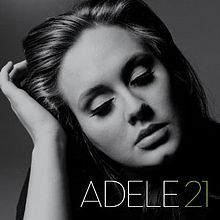 Every used record store should have a list of releases that they refuse to take on trade-in or consignment. If it were my store, I'd refuse anything from Phil Collins, the Eagles and Sammy Hagar-era Van Halen (Hey, at least the Gary Cherone stuff is a curiosity).
I'd also refuse anything from artists that have sold a bazillion copies. Bieber. Boyle. And Adele.
According to the latest figures released by musicMagpie, a British traders site, Adele's 21 was sent to the site by 47,315 on Christmas Day, officially making it the most unwanted CD Christmas gift.
Second place? Emeli Sandi's Our Version of Events (41,038 returns) followed by Up All Night from One Direction (37,846). The most unwanted DVD was (most justifiably) Twilight (36,217).
Why all the returns? Because mom and dad think they know what you want when (a) you already have it; and (b) you actually hate it.
(Via NME)