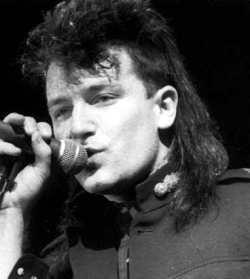 The mullet, perhaps the most rock'n'roll of all hairstyles, is also the most abused. You what I mean: short on the top, tight on the sides and long in the back.
Others call it "business in the front, party in the back." But where did the mullet come from? There are people who study this kind of thing, you know.
Anthropologists at Harvard believe that the mullet originated with Native North Americans centuries ago. Some tribes believe that a good portion of person's spirit lived in the hair.
The original mullet was very practical: short on the front to stay out of your eyes, long in the back to symbolize power. Rock didn't adopt the mullet until the 1970s, thanks to bands like Journey and Van Halen.
Bono once had a mullet. So did David Bowie. Even Chrissie Hynde sported one, breaking down that gender barrier, too. And look around: the mullet will never die.