The music industry made a ton of money in 2018 – but not artists
A new report showed the music industry raked in an astonishing $19.1 billion in 2018, an increase of 9.7% from 2017 and the fourth consecutive year of growth.
In fact, the 2018 revenue is the highest since the International Federation of the Phonographic Industry began tracking the money made by the music industry.
It's no surprise, of course, that the bulk of the money coming in to the industry is through digital formats, namely streaming: paid subscriptions to streaming services accounted to 32.9% of the $19.1 billion, staking a 37% share of total global music revenue for last year and worth roughly $9 billion.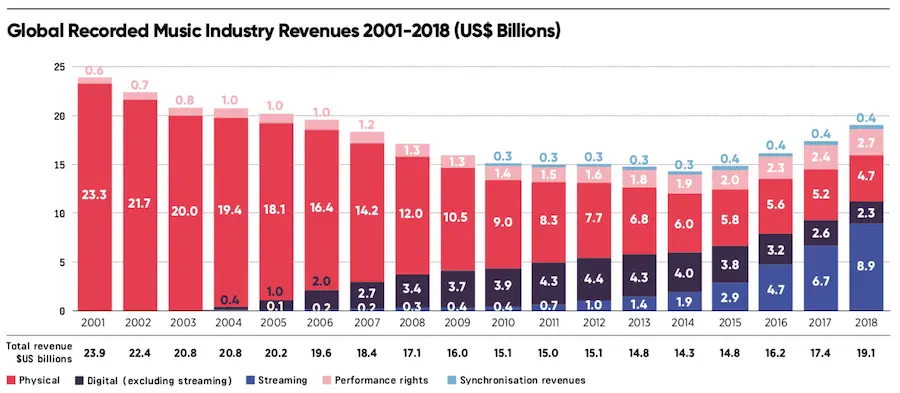 Ad-supported streaming (which usually means a user doesn't have a subscription) accounted for 10% of the streaming total, with downloads taking up 12% of its share and physical formats (CDs and vinyl albums) bringing in the remaining 25%.
The United States remains the biggest market for music, followed by Japan, the UK, Germany, France, South Korea, China, Australia, Canada and Brazil. North America saw a 14% growth in music consumption, led by a 33.4% increase in money spent on streaming.

Among the other findings in the report, published Tuesday:
"It shows both how streaming services can create exponential popularity spikes for the top echelon of performers. Second, it shows that the film industry can be a beneficial, symbiotic relationship," the report notes. "Drake was the king for yet another year, and other streaming-record-smashing artists (like) Ed Sheeran and Ariana Grande also made up the top 10. K-pop group BTS landed the second spot, proving the power of international fandom. Queen and Lady Gaga also secured spots, likely bolstered by the Bohemian Rhapsody biopic and the retelling of A Star is Born."
In a post for Music Business Worldwide, Frances Moore, IFPI's chief executive, says the report makes it clear that record labels and companies are investing in their artists.
"A dominant feature of the return to growth in recent years has been the expanded levels of investment record companies are making in their offerings to artists, in their people and in their global presence. In fact, record companies are investing more than one-third of their global revenues, or US $5.8 billion, in Artists & Repertoire and marketing each year, to break, develop and support artists," she writes.
That sounds great, right?
There's just one problem: For all the money the music industry is bringing in, especially from streaming, very little of it is actually going to the artists themselves.
Remember, each song is worth a fraction of a fraction of a cent per stream.
"U.S musicians only take home one-tenth of national industry revenues," Rolling Stone has reported. "One reason for such a meager percentage is that streaming services – while reinvigorating the music industry at large – aren't lucrative for artists unless they're chart-topping names like Drake or Cardi B."
Most music fans love Spotify for its ease of use and deep catalog, but "average per-stream payouts from the company are between $0.006 and $0.0084; numbers from Apple Music, YouTube Music, Deezer and other streaming services are comparable," the article continues.
And remember that the money a subscriber pays to a streaming service is NOT dedicated only to the artists and performers that person plays most frequently; it's dropped into a vat of money and spread out to all artists on the platform without any adjustments made for preference.
"Think of it like having your paycheck fluctuate based not only on your own performance, but on the performance of everyone else in your industry," The Ringer notes. "The better your colleagues and competitors do, the less money you make."
Spotify and other streaming providers, meanwhile, are taking to court a new U.S. mandate that would increase the amount paid to musician on a per-stream scale. The gradual increase from 10.5% to 15.1% is inequitable, Spotify says it's not suing musicians but has initiated a court procedure to "clarify" what the new streaming fee will include.