The Mysterious Lonely Vagabond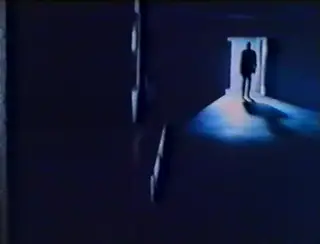 If you frequent some of the smaller clubs that cater to the indie crowed in Toronto, you may have run across a solitary figure, an apparition, a near-ghost who stays in the shadows.  He's always by himself although hundreds are familiar with him.  
Promoters tell me that this character has attended more shows in the last seven years than anyone by a wide, wide margin.  Doormen simply wave him through. He may be one of 500 people in the club or he may be one of five.  
Unlike scenesters who announce their presence loudly, he never does. When the gig is over, he often slips out a side door or emergency exit.  If you're on stage that night, you might get a note from him on your Facebook page.
This insider/outsider status has made The Lonley Vagabond rather legendary.  
Let's be clear, though:  he is neither lonely nor a vagabond.  He's just an interesting part of the local scene.  
I get the occasional emails from him.  He either recommends a band I've never heard of (his taste is close to impeccable) or he wants to engage in some kind of deep dialogue about the state of music.  I've never met him in person.
Jonny Dovercourt, the founder of the Wavelength music series, has this to say:
"The Lonely Vagabond, that mysterious figure who comes out to more shows per week than humanly possible, who has seen every band play their first or second show, who supports EVERYONE – through his thoughtful, enthusiastic reviews…. yet he's completely anonymous.
"I can't believe that, having worked with literally thousands of local bands over the years (we estimate that over 1,100 bands have played Wavelength over our 11+ year run) and having attended countless shows at every single venue or random cafe/bar/gallery/street corner with a P.A. – that I still can't put a face to the name of Lonely Vagabond.
"All I know is his name is Ben, and he writes very nice emails. I've probably stood next to him at shows more times than I realize. And to be honest, I prefer to preserve the mystery. I don't want the secret identity of Lonely Vagabond revealed. For me, I think it's tied up with preserving a kind of childlike innocence and enthusiasm around music.
"Finding out Lonely Vagabond is just a regular guy who works at Starbucks or the CBC would be a little like finding out Santa Claus isn't real."
As far as anyone knows, – Ben – (that's how he signs his emails) started posting comments on a MySpace page.  That evolved into a blog for Exclaim that features dozens of reviews.  He once told me that in 2009, he was at a show 339 nights out of 365.  His schedule includes 1-5 bands a night and up to15 performances during events like CMW and NXNE.
Bands like Shoot the Image are well aware of the Vagabond's presence.  They've even written a song in tribute to him.
The next time you're out a show in Toronto–especially a gig featuring a series of newer bands–take a look around at the people in the crowd.  Which one is the Lonely Vagabond? He's there.  I almost guarantee it.