The Mysterious Numbers Stations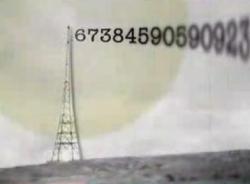 When I was a kid, I had a fascination with shortwave radio.  I successfully begged my parents to give me a multi-band radio that could not only receive standard AM and FM, but the aviation band and a limited number of shortwave frequenices.
Late one winter night, I found my first Numbers Station.
You know one when you hear one.  Usually the transmission begins with some kind of note or sequence of musical notes. Then a voice comes on, reading what appears to be a series of random numbers.  The voice might be male, female or even a child.  What the hell?
Numbers Stations broadcast coded messages to spies and operatives all over the world.  On any given night, you might stumble across a broadcast meant for a CIA spook, a KGB spy or a MOSSAD agent.  What were the messages?  If anyone told you, they'd have to kill you.  (Read more here.)
Naturally, Numbers Stations had their civilian fans.  The Conet Project has spent years recording these broadcasts (some are archived here.)
Recently, a Russian Numbers Station has been in the news (well, for those familiar with these mysteries).  The Buzzer, otherwise known as UVB-76, has been acting strange.  Who knows what it means?