UPDATE: The Mysterious Voice of America–MYSTERY SOLVED!
Back late 1987, a 12-inch import came into the radio station.  It was from a British band who went by the name Voice of America.  The song, "Story of Love," became a cult alt-rock hit, especially in Southern Ontario and Western New York.
I played the song countless times on the radio and in clubs.  Later, I wrote the liner notes for a series of retro CDs for EMI, parent company of Virgin Records, the home of Voice of America.  One volume featured "Story of Love."
That's when it dawned on me that I knew nothing about the band.  And I mean nothing.
I went back into the archives at the radio station.  No notes.  No press releases.  Just a simple black and white promo photo showing two unnamed guys (?) who looked vaguely Depeche Mode-ish.
I needed to write something for the liner notes so I asked EMI for help.  They went into their files and came back with…nothing.
The label rep was understandably frustrated.  "I know this band is on our roster and we hold the publishing rights–but no one seems to know a damn thing about who they are or where they're from."
"Story of Love" might as well have been recorded and released by aliens who then flew back to their home planet.
I'm reminded of this because Fabio sent me an email last night asking if I knew anything about this band or this record.  Fortunately, some information has come to light.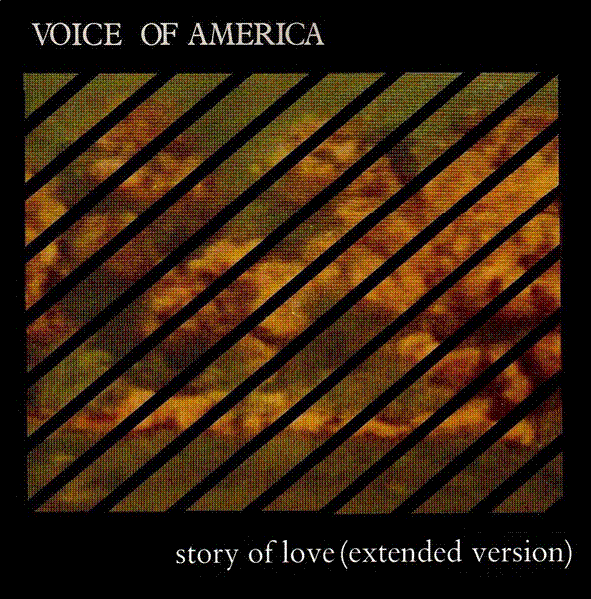 Front cover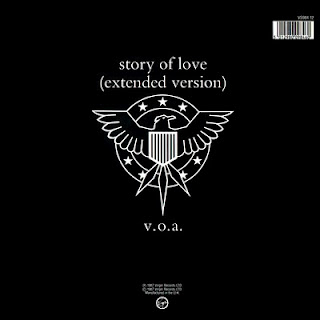 Back cover.
Here are the particulars:
Title:  "Story of Love" b/w "V.O.A."
Released:  1987
Label: Virgin Records VS 984-12
Members:  Joe Cerisano (ex of Silver Condor) and Sandy Farina (who played Strawberry Field that horrible Bee Gees movie about Sgt. Pepper's Lonely Hearts Club Band back in 1978).
Produced by:  Captain Sensible of the Damned.  (I think.)
And, er, that's it. Can anyone anywhere shed any more light on this mysterious band from the 80s?
UPDATE! MYSTERY SOLVED!
Thanks to everyone who contributed to the hunt for knowledge in the comments section. But here's the winner:
Hey folks,
The trail ain't completely cold..
I am Nigel, the keyboard player in the band and I co-wrote Story of Love with Dave Shaw.
The female vocal was Carroll Thompson, sometimes referred to as the Queen of Lover's Rock, a British style of reggae music noted for its romantic sound and content (according to Wikipedia).
We met here in the Denmark St demo studio where we worked, in Soho, when she was singing backing vocals for Maxi Priest at the end of the 80s. Her voice was so damn good that we could hardly bring ourselves to speak during the recording, it was like being in the presence of an angel.
Nice to know the songs touched some people at least.
Being signed to Virgin was a frustrating experience because they were going through a period of massive expansion, with over 80 bands on the roster. So they didn't really get behind the marketing. I didn't find out the records were released anywhere but the UK for over 20 years, when a Canadian remix dj called me up out of the blue asking if i was really the Nigel Haslam from VOA.
I haven't seen or heard from the other guys in the band for a long time. Live in Australia now and work in visual effects and animation. Life is sweet.
Thanks for your interest.
Cheers
N
 Well, that it, then.  Thank you, Nigel!