The New After-Market Car Stereos Sure Beats Those Old 8-Track Units
My first exposure to car stereos was the Muntz 8-track my cousin Willard had in this customized Ford van (Hey, it was the 70s; those kinds of vans were the thing. Seat belt laws pretty much killed them.)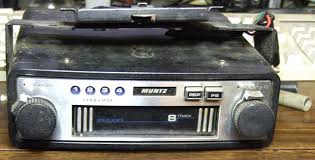 The tape that got the most play was this one.
I seem to recall that "Hair of the Dog" (cowbell!) was one of the songs that got caught between tracks. It slowly faded down to nothing and then KA-CHUNK! The heads moved, changing to the next track on the tape whereupon the song would fade up and finish.
Fast-forward to today's car audio. Most of us wouldn't think about ripping out the factory unit because of its tight integration to the car's systems. Just look around: how many specialty car audio shops do you see these days?
But that doesn't mean that the after-market car audio industry is dead. Pioneer has just launched a new collection of head units that incorporate smartphone connections. Bluetooth, USB connectivity, Pandora, HD radio–the works.