The No-Smartphones-At-Shows Movement Gathers Momentum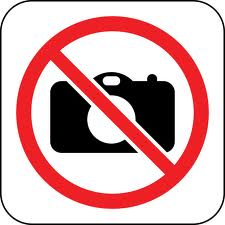 We've all seen them: tourists who miss their entire vacation because they're so damned concerned about getting everything on video. And I'll bet you've made fun of these people, too.
But how are they any different from people who insist on watching a gig through the tiny screen of their smartphones?
The first person I ever heard rail against the use of smartphones in concert was Billie Joe Armstrong more than five years ago. "BE IN THE MOMENT! PUT DOWN YOUR PHONES! YOU'RE AT A ROCK'N'ROLL SHOW." You rock, Billie.
Things have picked since then, too. The Yeah Yeah Yeahs have famously asked crowds to put down their phones in respect to the band and everyone who does want to enjoy the gig.
And now, the National Post mentions this about the recent "secret" Stones show in LA:
Cameras and smartphones weren't allowed inside the Echoplex, which usually plays host to hipster bands and mash-up dance parties. The lack of personal recording devices made the Stones' performance feel even more exclusive and old school, freeing concertgoers' hands of the gizmos that have become commonplace at concerts nowadays, and further bonding the crowd, many of whom built up camaraderie during the confusing ticket lottery earlier in the day.
I'm SO behind this. More people need to put down their goddam phones and enjoy the f**kin' show. Love it.
Call me old-school, but I cannot understand why people feel the need to video moments in their lives that they should be living.