The Recommendation Project Part 6: 2 Minute Warning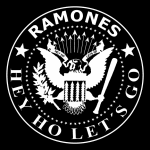 Some people can say everything they need in about two minutes. I mean, just look at the Ramones. I think there's one song in their entire repetoire that runs more than four minutes. The vast majoriy are around that two-minute sweet spot.
But picking a Ramones song is easy. Let's see if we can agree on a bunch of songs that are paragons of brevity that weren't written by the Ramones.
Here are the rules for The Recommendation Project.
1. Look me up on Rdio (www.rdio.com/people/AlanCross) and find the playlist marked The Recommendation Project Part 6: Two Minutes of Heaven.
2. Submit ONE (and only ONE) song to the playlist that as a maximum time of no more than 2 minutes and 20 seconds.
3. As usual, the song can be brand new or just new to you. For example, if you're recently discovered the Ramones, they have a ton of 2-minute wonders. Feel free to add one to the playlist, but like I said, let's try to keep the Ramones songs to a minimum.
4. Let your friends know about the project. Get them to contribute.
Check in often to see who has contributed what. I've started things off with "Panic" from the Smiths.