The Rolling Stones' 1969 documentary Sympathy for the Devil has been restored for re-release
Back in the summer of 1968, French filmmaker Jean-Luc Goddard was allowed to follow The Rolling Stones around as they worked on their new album at Olympic Studios in London. The resulting documentary, Sympathy for the Devil, offered some fantastic insights into the Stones' creative process.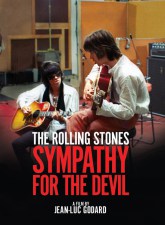 The film has now been restored in 4K and will receive a quick theatrical released before appearing on DVD and Blu-Ray.
Here's a quick trailer.
More here.