UPDATE: The Beatles Now Streaming!
The people entrusted with guarding the legacy of the Beatles are very, very cautious. When the CD was introduced in late 1982, the Beatles catalogue didn't move to the new format until early 1987. Steve Jobs wanted the Beatles for iTunes when it launched in 2003, but no one could legally buy digital files of Beatles music until 2010. Streaming started to become a thing in 2008 and the Beatles wanted nothing to do with it–until now.
If you read the news today, oh, boy.
As of 12:01 am local time tomorrow morning–that means New Zealand goes first–the Beatles will be fully streamable on Apple Music, Amazon Prime, Deezer, Spotify, Slacker, Napster/Rhaosody, Microsoft Groove, Google Play Music and Tidal. And not just one or two songs. Users will be able to access 13 remastered albums and four compilations. And get this: not only will they be available on the premium services of each company, but also on the free ad-supported tier.
Wow. Did not see that last point coming. Who managed to negotiate that? And what are the terms?
Here are the albums that are available to stream:
Please Please Me
With The Beatles
A Hard Day's Night
Beatles For Sale
Help!
Rubber Soul
Revolver
Sgt. Pepper's Lonely Hearts Club Band
Magical Mystery Tour
The Beatles
Yellow Submarine
Abbey Road
Let It Be
The Beatles 1962 – 1966
The Beatles 1967 – 1970
Past Masters (Volumes 1 & 2)

By the way, Paul, John and George's solo work has been available for streaming for a while. I suppose Ringo is in there, too, but no one has looked. Poor Ringo.
The Beatles appearance on CD marked a turning point for the acceptance of that format. Allowing for legal digital purchases was seen as an important step away from the world of physical music formats. Will the availability of the Beatles on streaming services increase adoption rates of the new technology? We'll see. (Via MBW)
Google Play Music announced things with this blog post and video.
Some stats from Google: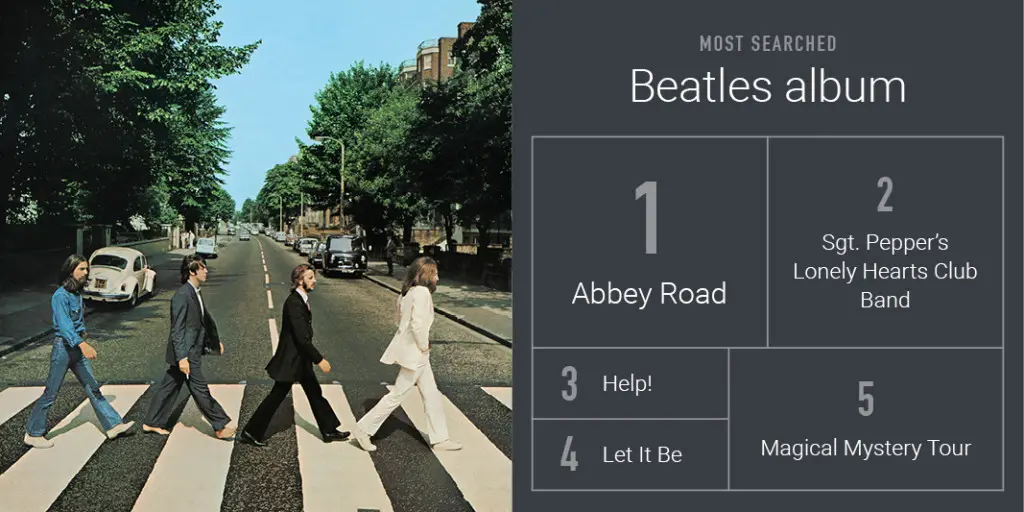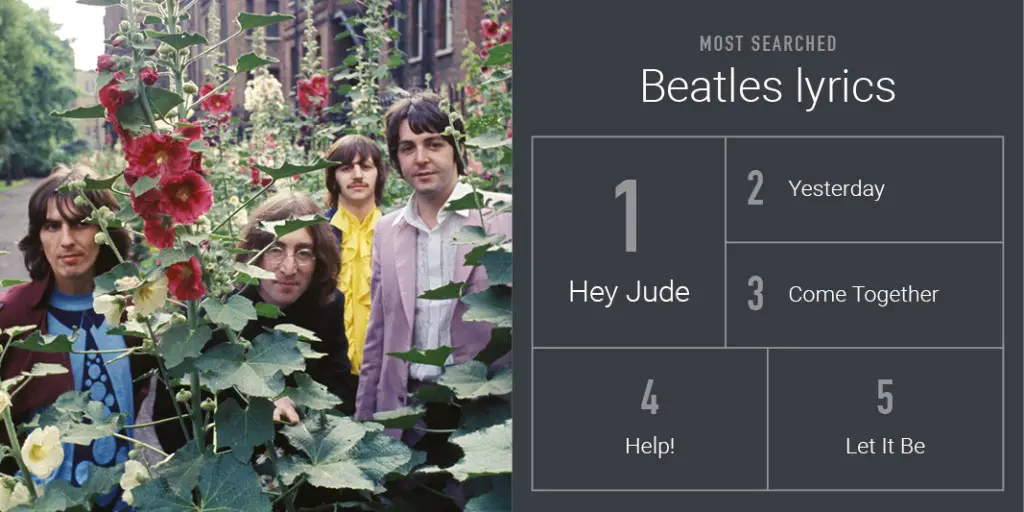 Meanwhile, Music Industry Blog has this to say about the development:
So the Beatles are finally coming to streaming…well much of the Beatles' catalogue is at least.  Is it a big deal?  Kind of. The Beatles were late to iTunes and they're now late to streaming.  Fashionably late though. No so soon as to be left standing awkwardly waiting for something to happen and not too late to miss the real action.
The Beatles are unique enough, and important enough to dictate their own terms and set their own timetable. For streaming services the Beatles catalogue is strategically important in the way it was for iTunes in that it helps communicate the value proposition of all the music in the world…well most of it. For the Beatles it represents the opportunity to reach younger audiences that sales are currently missing (which in large part explains why the catalogue is being made available on free tiers too).
It's All About Targeting
20 years ago everyone pretty much bought the same product, the CD. Now though the music consumer landscape is fragmented and siloed. The fact that Adele's 'Hello' simultaneously delivered stellar performance across audio streaming, video streaming, download sales and radio illustrates that there are many highly distinct groups of consumers that do one but not the other. This what Universal will be banking on with bringing the Beatles to streaming: they'll be hoping that most of the future prospective buyers of Beatles albums are not streaming. For as long as this elongated transition phase continues, this sort of approach can work.
What Happens When The Bottom Falls Out Of the Catalogue Business?
The business model of record labels has long depended on revenue from back catalogue propping up the loss-leading new artists, on whom labels have to spend heavily to break. That model works as long as back catalogue sales are vibrant. But cracks are now showing in that model. Labels, especially the big ones, are increasingly spending even more heavily on a smaller number of big bets. For major labels many of these are either manufactured or laser targeted pop acts that grow big fast but like genetically modified crops, soak the nutrients out of their fan-base soil and are less likely to have long term careers. This means breaking artists are costing more to break and have less long term revenue potential.
Finally, here's Billboard's take on the matter.
As the business of streaming has been either attacked or ignored by some of today's most popular stars, the biggest act of all time has finally embraced the format. It's not an overstatement to say the Beatles will change digital music when the group's music joins at a host of streaming services Thursday. What's more, now it feels like Taylor Swift and Adele are on the outside looking in.
The Fab Four's catalog will be available at Spotify, Apple Music, Rhapsody (and Napster in the United Kingdom), Deezer, Google Play Music, Tidal, Microsoft Groove, Amazon Prime and Slacker. It has already — and quietly, it seems — been available at Pandora, SiriusXM Radio and other non-interactive services both online and terrestrial that do not need permission to play a recording.
The question is why?