The Sad Death of Whitney Houston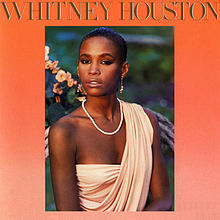 I remember the first time I heard about Whitney Houston. It was deep in the winter of February 1985, back when I was working at Q94FM, a "lite-rock/more-music-less-talk" station in Winnipeg. The program director–my boss–was quite excited about that first record.
"Listen to that voice!" he kept saying over and over as he made use listen to "You Give Good Love" for a half-hour straight.
I didn't get it–it wasn't my kind of music at all–but I did agree that she had a great voice. No wonder that record went on to sell more than 25 million copies. And the standard estimate of her career sales stands at around 200 million.
The rest of the 80s were very good to Whitney, but sometime in the 90s, she became the punchline to jokes. Her erratic behavior, embarrassingly bad live performances, drug and domestic issues with husband Bobby Brown (including a lot of time on the crack pipe, allegedly), money issues, a famous hissy fit at the 2000 Oscars and a seeming inablity to use that God-given voice the way she used to.
It was obvious to everyone that the woman was messed up and getting more messed up by the month. As early as 2001, MTV began assembling video for an obit for when the inevitable happened.
And that seemed to be a prudent thing to do. All one had to do is compare the picture of the beautiful young woman on the cover of that first album with any of the paparazzi shots of the last ten years.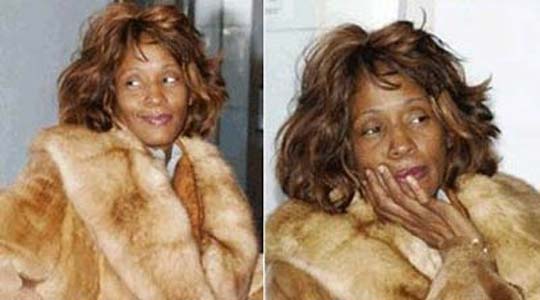 Lately, though, things seemed to be getting better. Reports had her being in great spirits and possibly taking a job as a judge on X-Factor.
We don't know what happened in that Beverly Hilton hotel room yesterday afternoon around 3:30. There was no sign of foul play, so it'll be up to a coroner and a toxicology report to figure out what happened.
Clive Davis, the record mogul and Houston's long-time mentor had a pre-Grammy party last night. Instead of cancelling it, it turned into a wake. Meanwhile, the Grammy people have been working all night to set up some kind of tribute for tonight's show. They found the newly Weight-Watchers-thin Jennifer Hudson to make a "respectful tribute."
It's too early to call this a junkie's death, although that might turn out to be the case. One story is that she drowned in the bath. Prescription drugs were found in the room which could point to a death by misadventure verdict. Or it could be some kind of cardiac failure resulted from years of drug abuse. After all, isn't this the woman that was once quoted as saying "Crack is whack?"
But whatever the story, it's a sad, sad way to go for a woman who really had it all.
Read a great story from Salon here.