The Secret History of Rock: Episode 006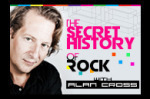 Sorry I didn't get this up earlier, but I've been travelling a lot. I still am, actually, because I'm needed in Phoenix for a couple of days.
Here's a summary of Episode 6 of The Secret History of Rock. It'll be available for on-demand streaming in the YouTube player on the right side of the page in a day or so.
Meanwhile, feel free to browse through all the other shows. And if you have a comment or question, just shoot me an email, okay?
Topics:
Small Town Heroes
The English Beat Family Tree
A Brief History of Backwards Messages
1988
Rock'n'Roll Hotels
Useless Information
Playlist:
3 Doors Down/"Kryptonite"
Three Days Grace/"I Hate Everything About You"
Nirvana/"Come As You Are"
English Beat/"Mirror in the Bathroom"
General Public/"Tenderness"
Fine Young Cannibals/"Johnny Come Come"
Beck/"Loser"
Depeche Mode/"Master and Servant"
Pursuit of Happiness/"I'm an Adult Now
Morrissey/"Every Day is Like Sunday"
INXS/"Devil Inside"
RCHP/"Under the Bridge"
Echo and the Bunnymen/"People Are Strange"
Stone Temple Pilots/"Plush"
Blur/"Girls and Boys"
Payolas$/"Eyes of a Stranger"
Coldplay/"Vida La Vida" (Thin White Duke Remix)