The Secret History of Rock Welcomes a New Station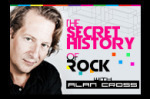 This is good! I've always wanted to be on HTZ-FM. The press release:
97.7 HTZ-FM Welcomes the Godfather of Modern Rock,
Alan Cross to the on-air line-up
Niagara, ON – Southern Ontario's heritage rock station, 97.7 HTZ-FM is proud to announce that Alan Cross will be joining the on-air team with The Secret History of Rock beginning Saturday, November 5th, 2011.
The Secret History of Rock with Alan Cross, offers the perfect combination of music and storytelling. Written and hosted by Alan Cross, this 2-hour weekly feature focuses on the roots of the hits from the 70s, 80s and 90s. Cross brings the stories and personalities from the music scene to life with his incredible amount of history, knowledge and excitement to HTZ-FM.
Celebrating the station's 25th Anniversary, HTZ-FM is proud to announce that this icon in the music and broadcasting industry will be joining the team. Alan Cross has been the foremost expert in 'Musicology' and a staple on Canadian Radio since 1980. His radio show, The Ongoing History of New Music debuted in 1993, has become the longest running music documentary in North America, with over 700 programs.
97.7 HTZ-FM's Music Director and Assistant Brand Director, Paul Morris says about the partnership, 'We're stoked to bring our listeners this new show from one of rock radio's great storytellers. Alan's passion for music and his uncanny ability to bring new detail and perspective on the artists and music we love, makes for a compelling radio experience".
The Secret History of Rock with Alan Cross can be heard, Sundays at 10am – 12pm.