The Shatner Tour Diary: Day 3 (On the Bus)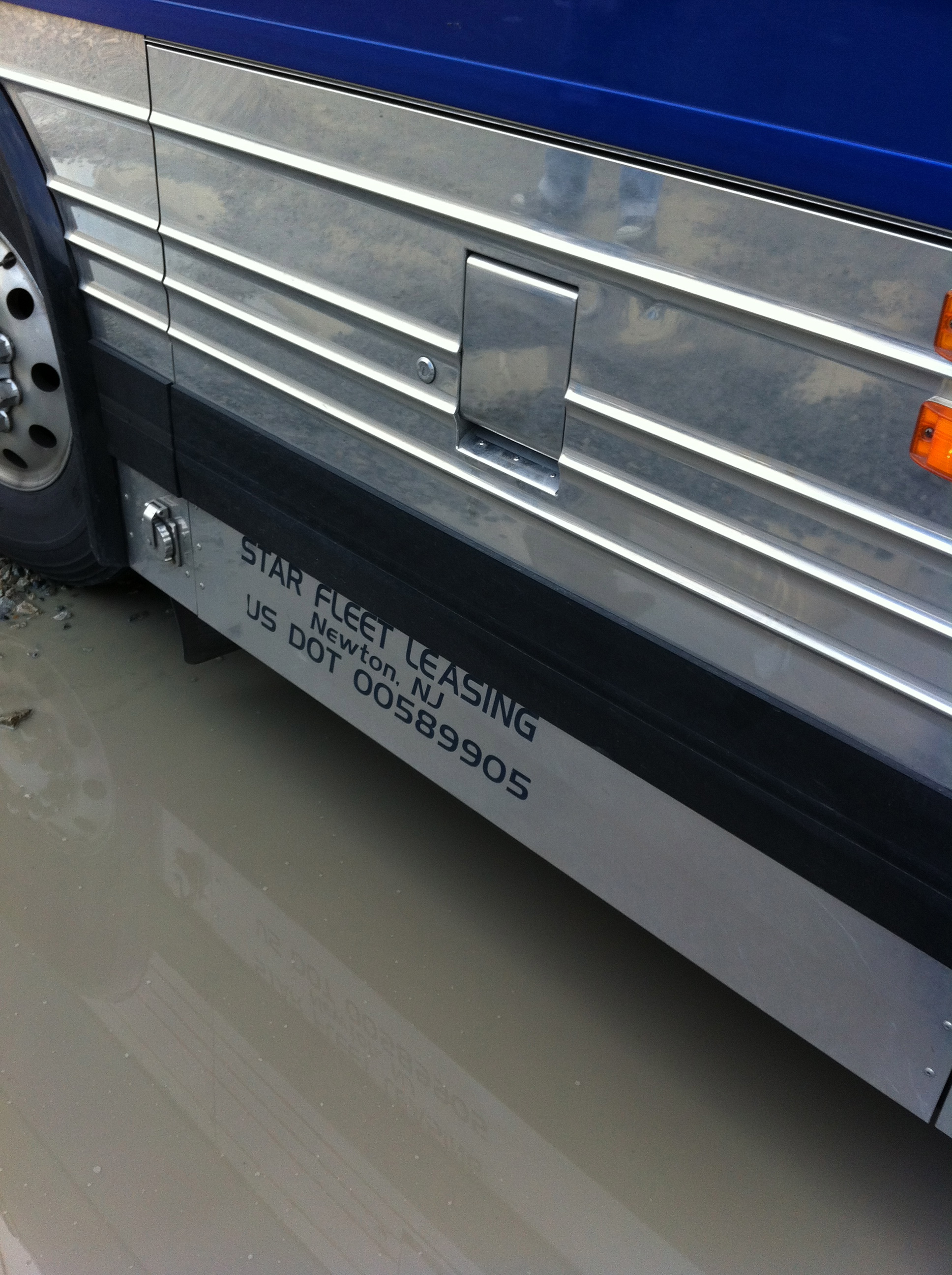 [SOMEWHERE EAST OF SWIFT CURRENT SK] – I've never travelled by tour bus before. After last night, though, I have new respect for anyone who does. We left Vancouver at 1pm PDT on Wednesday. Here it is 11am Saskatchewan time Tuesday, having traversed the Rockies almost nonstop.
Some things that everyone should know about travelling by tour bus:
(1) When sleeping in your bunk, it's feet towards the front. That way you won't break your neck in your sleep when the inevitable front-end collision happens.
(2) The #1 rule about the onboard bathroom: No #2.
(3) You stop when your driver stops.
(4) The driver never stops.
Our driver is Kevin, a grizzled sort with a deep scar along one temple that everyone's afraid to ask about. You can imagine him as Henry Rollins' older brother. He's been wearing the same Buckcherry t-shirt since the tour began. No one has the courage to ask about that, either.
But the scariest thing about Kevin is his fridge. While we have our own fridge, Kevin's mysterious icebox lurks across the aisle. Before every departure, he does a headcount ("I will NOT leave a man behind!") and goes over the rules. "Garbage in HERE"—pointing to a slide-out cupboard—and "DON'T TOUCH MY FRIDGE."
Our bus for the William Shatner tour is a big blue Canadian-made Prevost leased from—and I shit thee not—a company called Star Fleet. As the driver, Kevin mans the bridge and acts as captain, first officer, helmsman, navigator and chief engineer. (On assignments where he ferries bands around the continent, I have no doubt that he serves as a sort of science officer, too.)
The front of the bus contains a lounge with bench seats, a table, kitchen and a 42-inch TV hooked to both satellite and a DVD player. Keeping with the Star Fleet theme, I call it Ten Forward. There's a little intern helping us with video on the tour who I've begun calling Guinan.
Next is the sleeping compartment, which can be sealed off by a electric sliding door that goes ssssswwwhoooosssshhhhh just like in Star Trek. There are twelve bunks—six a side, three high—that resemble the hibernation pods on the USS Botany Bay. I like to think I'm in Khan's bunk, but it's more like the spot where Metallica's Cliff Burton had his last nap. At least my bunk doesn't have a window that will send me out onto the ground before the bus rolls on top of me.
Each bunk is remarkably self-contained. There are plugs for laptops and iPhones and iPads. There's a nice overhead light. There's even a compact DVD player that hangs from the ceiling with a fold-down screen. I cringe at the amount of porn it must have shown. And please, let's not discuss the stray DNA that lives within my mattress.
At the back of the crew compartment is the onboard toilet (see above) and a shower room which we all agree looks like a single-pad transporter. Funny, though, that it only works as a shower.
The final compartment of the bus—behind another Star Trek door, of course—is what I call the engine room. This is where the people running the tour keep everything running. They have bench seats, their own TV and the privilege of hearing the incessant drone of the bus's diesel. Most of them can no longer hear a word I say.
The bulk of the gear is being towed in a small U-Haul trailer. That's the shuttle craft. Of course.
We do have Internet on the bus. It's a turtle-shaped WiFi router that's supposed to tap into the prevailing cellular phone networks. Alas, coverage wasn't so goo through the Rockies. Even our cell phones kept displaying "no service" most of the time. It's been a bit better since we got east of Calgary, but Rogers still can't seem to offer much more then 2G performance along the Trans Canada. At least at the speed Kevin's driving. Which is fast.
The last twenty-four hours have been spent taking about how to refine How Time Flies, which, in case you don't know, is the name of the Shatner tour. We'll try out the new ideas tonight in Regina, including a new sing-along ending to the show. We'll see how it works.
Oh, and in case you're asking, Mr. Shatner is not on the bus. Did I mention he has his own plane?