The shooter in the Dayton massacre was in a "pornogrind" band
If Republican politicians are quick to blame the weekend's slaughters in El Pass and Dayton on video games, (Spoiler: They're not.) it may not be long before they start blaming metal music. Here is why.
There are many different types of extreme music, but few are uglier, more immoral, repugnant, and indefensible than "pornogrind," a brand of metal that focuses on songs with themes of the rape and killing of women.
Also known as a form of "goregrind" (itself a sub-genre of grindcore), this particular brand of extreme metal has a following throughout parts of the US midwest, including Ohio.
According to Vice, Conner Betts, the shooter in Dayton, was known to sing lead vocals in a band called Menstrual Munchies. Their song catalogue includes titles like "Preeteen Daughter Pu$$y Slaughter," "C*nt Stuffed With Medical Waste – Sexual Abuse Of A Teenage Corpse," and "6 Ways of Female Butchery." (Betts apparently had nothing to do with the writing or recording of any of the band's material.) They played live at an event called Summer Massacre 2 in Chicago back on June 29.
BuzzFeed News found this on YouTube before the account was deleted. Betts is on the right. In a dress.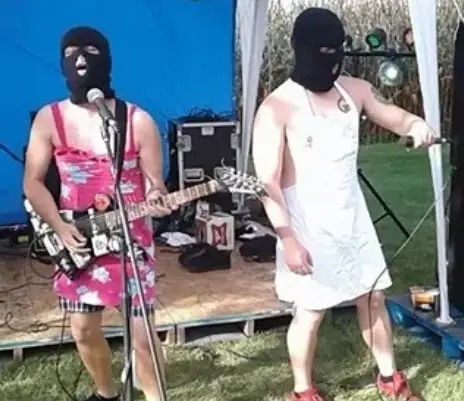 When he wasn't singing with them, Betts was also part of a group called Putrid Liquid. He might have also been associated with a "black metal antifascist" band called Neckbeard Deathcamp.
Other midwestern pornogrind bands have names like Bill Nye da Nazi Spy, C*nt Torch, and Necro Cannibal Ass Grinder. There's even a festival called Pornfieldz of Illinois Grindfest.
T
Those involved in the scene say that they're not serious and that they're out to shock in the same way Marilyn Manson did for a previous generation.
Vice quotes Ryan Ward of C*nt Torch: "I feel it's our responsibility to make it a point to let people know that, no, this is not what we actually stand for," he added. "Our songs aren't prophecies, you know, like, they're not fucking, ominous fucking messages that are supposed to come true. They're just songs."
Uh-huh. "Just songs." Right.
Meanwhile, how long will it be before someone conflates pornogrind with all metal? People are looking for scapegoats. A group called Acacia Strain has already been singled out by a journalist as a contributing factor to the massacre because the shooter wore one of the band's hoodies as he went on his rampage. (The group had this to say in response.)
There's a whole lot more here. You can also go here.