The Smiths: Better Than the Beatles?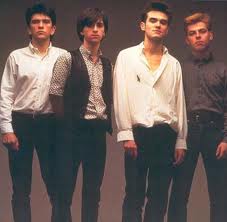 Yeah, that headline is link bait. But it made me click on this story from Salon.
They lasted just five years. They made just four proper albums. They've been ignored by the Rock & Roll Hall of Fame. The American pop charts wanted nothing to do with them.
But the legacy and legend of the Smiths only grows. As teenagers in Manchester, England, few would have predicted Steven Patrick Morrissey and Johnny Marr would become the next great British songwriting teams, and one of the very best of all time.
Morrissey was most comfortable in his childhood bedroom, firing off biting missives to music magazines; awkward and sexually ambiguous, he seemed neither frontman nor poster boy. Yet one day in 1982, Marr knocked on his door, on a hunch that this 23-year-old misfit might become this charming man.
The partnership that ensued led to arguably the most important music of the decade, and some would say even longer. It's a nearly note-perfect catalog that endures because it sounds like no other, and speaks directly to the vulnerable, romantic heart of all ages. Marr's as an inventive a guitarist of his generation, whether providing the jangle and bounce to "This Charming Man" or "Hand in Glove," the siren squall to "How Soon Is Now?" and "The Queen Is Dead," the cinematic scope of "Last Night I Dreamt That Somebody Loved Me," or the delicate solo to "Shoplifters of the World Unite." And Morrissey's lyrics followed in the tradition of Oscar Wilde and Philip Larkin — lovelorn, yes, but funny, literate, smart, alive.