The Smiths to Reform: Report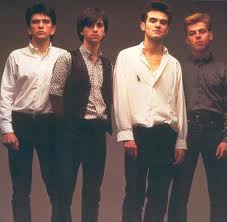 The first thing I did when I heard this news was check the calendar. No, it's not April 1st. The only other conclusion I can draw from this (if it's in fact true) is that Apocalypse is nigh, Hell has frozen over and pigs have begun flying out of my butt.
Just checked. No pigs. I'm pretty sure.
But acccording to Music-News, the Morrissey and Marr have thrown aside their longstanding differences and have agreed to reform the Smiths this fall.
Although I'll believe it when I see it with my own eyes, I quote from the report:
The legendary songwriting partnership comprising of musical luminaries Morrissey and Marr are set to make a return after finding common ground.
It will be the first time that Manchester's independent monoliths, who were signed to London's Rough Trade label, have graced a stage since their acrimonious split in 1987.
Legal wranglings in the band saw other members, Andy Rourke (bass) and Mike Joyce (drums), sue with varying degrees of success.
This announcement comes after a source revealed that the 80s icons had been in talks to perform with a well-known promoter.
The decision was said to have been made after fellow Mancunians, The Stone Roses, gave in and reformed.
The Smiths had previously turned down a lucrative offer of over 76 million pounds to tour the US.
Two things:
(1) God, NO! DON'T F**K WITH THE LEGACY, LEGEND AND MYSTIQUE! STOP IT! NOW! FOLLOW THE EXAMPLE OF THE CLASH AND END THIS F**KING MAD TALK!
(2) Where do I get tickets?