The "Stairway to Heaven" plagiarism case could reach the US Supreme Court. This is not good for music.
Sorry for the legal talk, but I feel the need to address things because I get so many emails about people annoyed about how two songs sound similar. "This is a rip-off!" they say, "Something must be done!"
Hold on. Back up. These situations are far more tricky that you think.
A great example of how everything to do with US copyright law is the never-ending "Stairway to Heaven" plagiarism case brought forward by the estate of Randy California, the late leader of a band called Spirit. The allegation is that during a joint American tour in the 1960s, Jimmy Page had plenty of time to observe Spirit playing a song called "Taurus," which employed a common guitar figure known as an arpeggio. This is when the player breaks a chord apart into its constituent notes. This same technique is used in the opening of "Stairway to Heaven." Same technique but different notes.
Similarities? Sure. In fact, there are many songs that sound similar including "Chim Chim Cher-ee" from Mary Poppins. But we can also go all the way back to the 1600s for similar guitar figures. There's even an argument that this arpeggio might even be in the public domain.
Still, let's compare.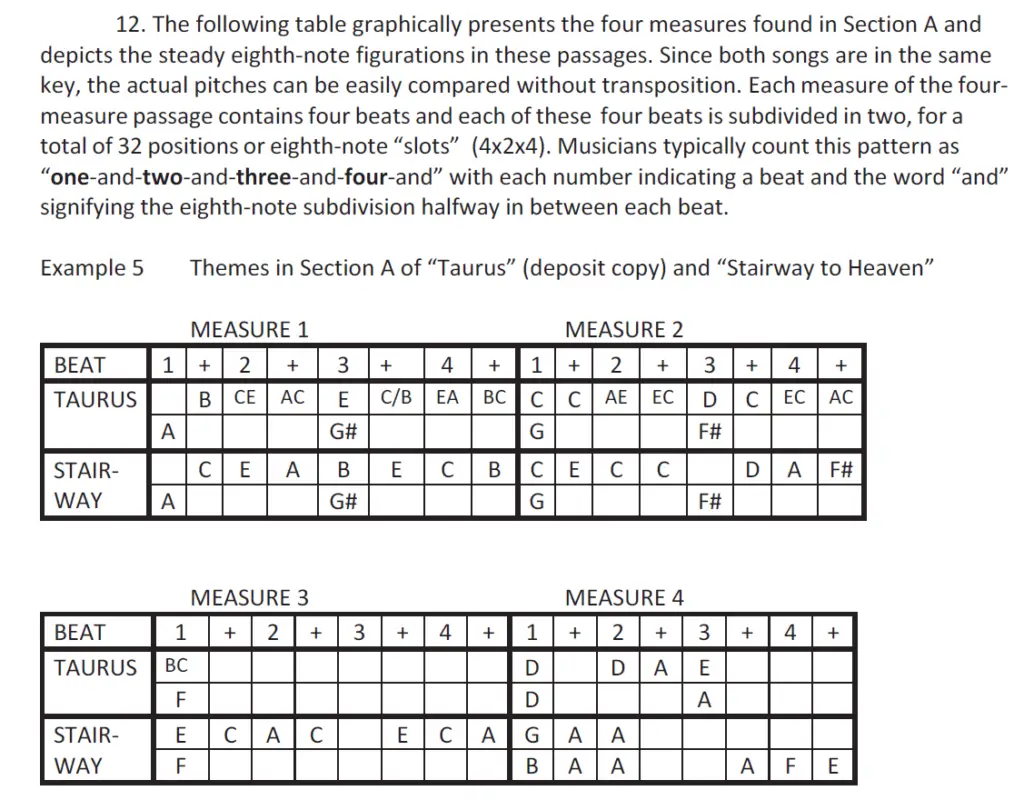 Not only are the notes different, but so is the timing in which they are played. But to the ear, they might sound close to the same thing.
However, US copyright law states that the similarity of songs music must be judged on the basis of the original sheet music. If the notes on the pages are the same, then there's a problem. If the arrangement is just similar, there's no issue. (Well, there wasn't until the whole "Blurred Lines"-"Got to Give It Up" case where "Blurred Lines" was ruled as copyright infringement based on nothing more than "feel." But that's for another post.)
In other words, you can't just play two recordings for a jury and ask them if they sound too much alike. You gotta go to the sheet music. But the Spirit people say that this sort of evaluation and judgment, which has been in place since 1909, is wrong. This test for copyright is flawed and should be thrown out. They want to take this all the way to the Supreme Court.
But anyone who knows anything about songwriting knows that this is potentially very, very dangerous. A ruling in favour of Spirit would be a death blow to creativity, originality, and songwriting itself. For example, it would open the door to a bazillion lawsuits over songs which do nothing than share the same chord progressions. This video illustrates the issue.
You see the problem. And let's not talk about how this would affect every single blues song ever written.
Let's hope that SOTUS refuses to hear this case. US copyright law is already very broken. This would make things irreparably worse.
If you want to go deeper into the legal weeds, read this.