The Story of Dick Dale, Guitar Pioneer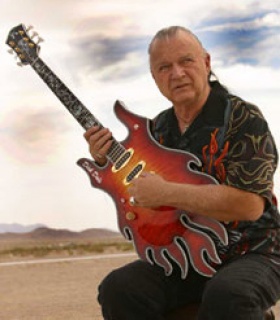 Never heard of him? You've certainly heard his music, especially if you've ever seen a Tarantino movie. Let's fill in some blankswith this feature in Vice:
During the late 50s, Dick Dale staked claim to a guitar sound in Balboa, CA that became synonymous with surf culture. He became known as the King of Surf Rock Guitar. The sound is distorted with a rhythmic twang. It's a breakneck steed up on a wave, firing west toward the horizon.
Born May 4, 1937, Dale is a true American hero. You've heard his signature song "Miserlou" in Pulp Fiction. On a larger scale, Dick Dale evolved volume. Working with Leo Fender and JBL Speakers, Dale was one the first guitar players on the planet to push, play with, expand, and experiment with the entity of louder volume.
Rock music is as loud as it is today thanks in large part to Dick Dale. At 75-years old, he's still playing, touring, and being loud. He's a man of many talents, and words. He's a horseman, an exotic animal trainer, a martial arts expert, an archer, and a pilot whose favorite plane is a Cessna 337B Super Skymaster.
His wife of nine years, Lana, is his soul mate, who knew she was going to be with him from the age of two. She also communicates with the dead.
Dale spoke from his home in San Bernardino County, California.