The Story of the First Canadian Band to Broadcast a Gig on the Internet
Students of Internet history know that the first-ever netcast of a gig took place in June 1993 when a bunch of nerdy musicians under the name Severe Tire Damage–some of whom were from the XEROX Parc technical group–played for other nerdy musiciand over something called the MBONE. The performance was seen as far away as Australia. (A full account of what happened can be found here and here.)
A series of other bands followed, including Sky Cries Mary and the Rolling Stones.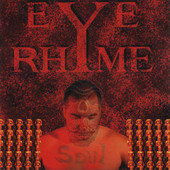 But answer me this: who was the first Canadian band to perform a netcast?
A couple of weeks ago at the KOI CON music business conference in Kitchener, I ran into Ian Graham and he told me his story:
The date was October 3rd, 1996 when Eye Rhyme did the first "Live to Internet" broadcast by a Canadian indie band. It was to promote the release of our second CD Soul.
At that time, I could see how the internet was going to revolutionize band promotion and the audience's they could reach with a simple website. But I wanted to test the limits and push the possibilities of doing a live performance to anyone with a computer and internet access.
So I called a few internet companies and Barrie Connex jumped on board. We ended up getting Molson's involved as a sponsor and they provided a transport truck full of computers that would allow people to surf.
I ended up calling the gig "the individual manipulating the corporations" since one inquiry by myself led to multiple corporation's interest. Back then this was exciting times as audio/video was finally starting to get used and Real Player at the time was the standard for streaming.
In the end we had over 400 people view the stream and it helped us sell more CDs and get inquiries from all over the world including Europe, US and Mexico. Following the internet broadcast we toured Mexico and did a second live to internet show the following year in Kitchener with Golden Triangle at Mrs. Robinsons.
Eye Rhyme hasn't done a lot in the last 2 years as my work has put things on hold as well as what you might say is the other dark side of the internet where everybody and their dog is doing music and expecting to be heard. But we have been working on a new CD and look forward to get back playing in the future.
And now we know.