The Story of the First Real DJ Party in North Korea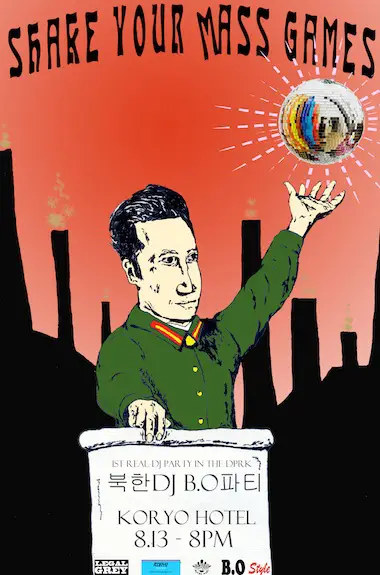 The official poster for "The First Real DJ Park in the DPRK"This past summer, I ventured ten feet inside North Korea.  
I was at the Joint Security Area along the DMZ. The tour takes you into a building that perfectly straddles the border between South and North.  Right in the middle is a conference table where both sides occasional sit down to hash things out.  The border runs right along the centre of the table.  I was able to move 10 feet beyond the table into the North Korean side of the room.
The Democratic People's Republic of Korea is easily the weirdest nation on earth.  I'm fascinated with the place. It's a country where the law stipulates that all music music sing the praises of the nation or its leaders.
Failing to do so will have your music labeled as "jazz."  Producing "jazz" is a punishable offense and you're liable to end up in one of the rat-infested camps along the Chinese border for the rest of your now considerably shortened miserable life.
This is why I find this story by Brian Offenther so fascinating. He may well have been the first-ever DJ in North Korea.