The Tragically Hip Movie Cameo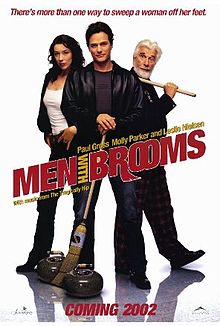 True or false: the Tragically Hip once had a cameo in a feature-length movie doing something other than playing music. That's true.
The film is called Men With Brooms, a Canadian movie about curling. And yes, the Hip does appear—but it's easy to miss them because the shot of them at the bonspiel lasts less than two seconds.
Well, how about the other movie with the Hip cameo? Trick question. Robert Altman, the famous director, once put together a pilot for a made-for-TV project about a rich computer geek who wanted to be a guitar player in a band.
At one point in the movie, he hires a group—the Tragically Hip—to play a party. But don't feel bad if you've never seen it. I don't think the movie was ever released so almost no one outside the production knows about it.