The Tragically Hip to be the Last Band at Ivor Wynne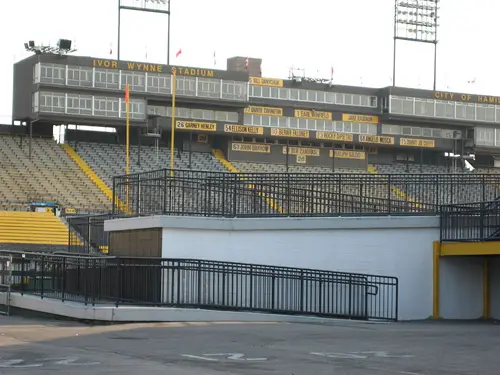 Hamilton's Ivor Wynne stadium is long, long past it best-before date. After this season, it'll be torn down and replaced with something more modern.
Because of its location in a residential location, it's never really been used as a music venue. Neighbours still talk of a particularly pyrotechnic show in 1975 that brought about a ban on gigs. The last band to perform there was Rush in 1979.
But with the final game coming up, everyone seems to be ready to let bygones be bygones. For the first time in 33 years, the stadium will be host to a proper rock concert. The Tragically Hip will see out the place with a show on Saturday, October 6. (Details here.)
The Hip are acquiring something of a reputation for opening and closing sporting venues. Guess who was the first band to perform at the new Air Canada Centre in Toronto? Yep. The date was February 22, 1999.