The Truth Behind "Rudolph the Red-Nosed Reindeer"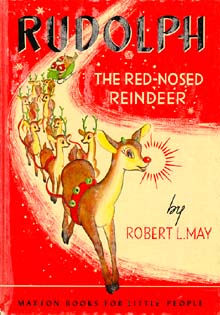 Myth-busing stuff from Whatever.
The story of Rudolph is most famously known as a song, memorably performed by Gene Autry in 1949. However, the song is an adaptation of a 1939 poem by Robert L. May, initially written at the behest of the Montgomery Ward department store, which originally published the poem in a coloring book, distributing 2.4 million copies during the holidays.
Despite the light tone of the poem, "Rudolph" is known to be a vicious satire of one Rudy Padgett, a contemporary of May's with whom the writer shared a bitter, lifelong rivalry. The reindeer's famous red nose is actually a metaphor for Padgett's alcoholism, with the other "reindeer" (Padgett and May's companions) laughing, calling him names and refusing to play with him not because of bigotry but because they were mocking his lack of control around booze.
The original ending of "Rudolph" had a soft-hearted Santa letting Rudolph take part in the sleigh team over the objections of the other reindeer, leading to the sleigh being wrapped around a tree, six of the eight traditional reindeer killed and Christmas cancelled, much to the dismay of children everywhere.
The executives at Montgomery Ward, however, said that this version was "too dark for a coloring book" and ordered a rewrite, which May grudgingly provided. Ironically and coincidentally, after the publication of "Rudolph," Rudy Padgett sobered up and became a beloved member of his community, which only seemed to enrage May all the more.
"My father would often ask Uncle Bob what the deal was between him and Rudy," economist Steven Levitt, May's grand-nephew, once wrote in Slate. "Uncle Bob would only mutter one word, darkly: 'Pencils.' We never learned what it meant. It's become our family's 'Rosebud.'"
Learn more hard truths behind well-known Christmas songs here.