The Twitter sh*tshow continues to be sh*tty.
It's been a couple of days since our last summary of the horsesh*t happening with Elon Musk and Twitter. Better get caught up on what continues to look like a death watch. Note to Elon: Never fire all the people who are willing to tell you "no." You never, ever want to be the smartest person in the room, especially if you're the owner/CEO.
Elon reached out to advertisers, asking them to come back.
Nope. Not gonna have any of Elon's bullshit. That includes General Motors, General Mills, and Volkswagen. Audi, too.
Elon is taking on Apple. Bad idea.
Apple has US$44 billion–the kind of money Elon paid for Twitter–in Tim Cool's couch cushions. Funny that I couldn't embed this and could only capture a screen shot. On purpose?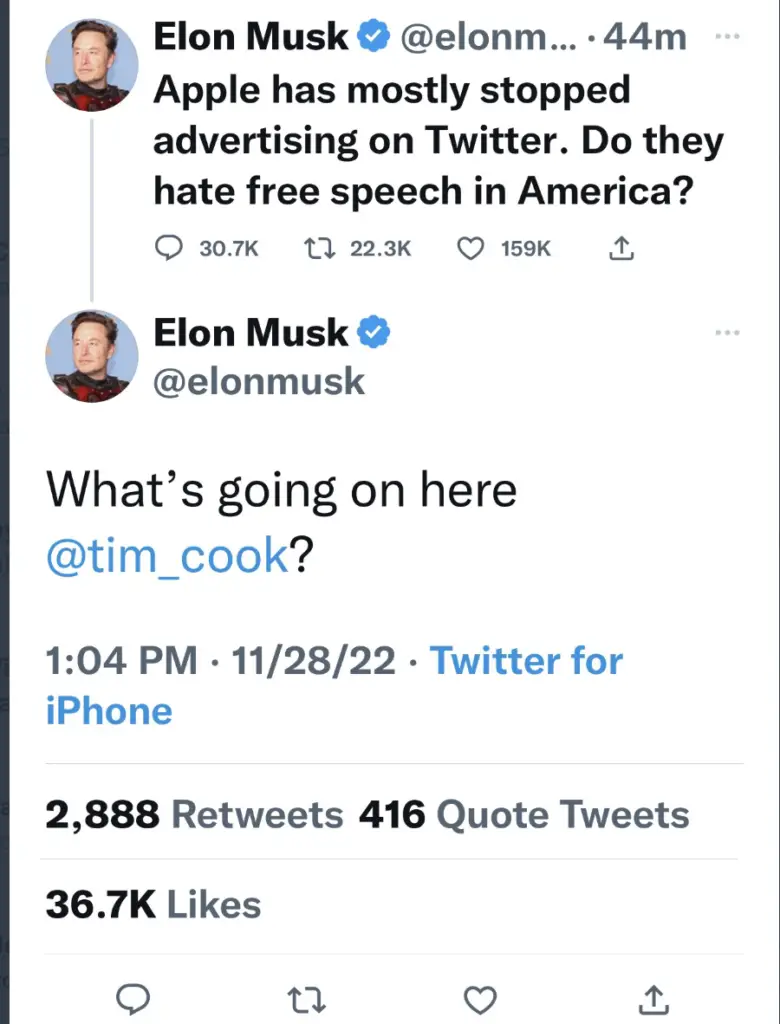 The internet has some thoughts about all this, too.
Um, doesn't this violate Twitter's own rules?
CNN seems to think so. I think so, too.
The Twitter shitshow is having an effect on all the Chinese counter-government protests in China
Twitter could have been an important communication tool for the protesters. Instead, Twitter is being flooded with adult images to delete any pro-protestor tweets. That's because Twitter doesn't have any content moderation anymore.
In other words, Twitter is actually helping the authoritarian Chinese regime with its version "free speech." Here's more on that.
Elon still has an odd notion of what "free speech" is.
He thinks he's engaged in the "battle for civilization" with this whole Twitter thing. Clown.
Elon tweeted a look at his bedside table.
Needless to say, the internet has some thoughts.