The Vicar Chronicles: Lightly Disguised Fiction About the Music Industry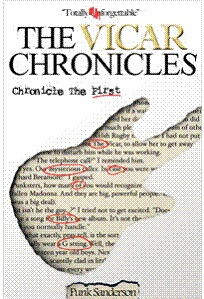 There are very few good novels set within the music industry.  Bill Flanagan does a good job (A&R, Evening's Empire).  John Niven's Kill Your Friends is excellent.  And if you can ever find a book called Powder (the author's name escapes me right now), it's also quite good.
This brings me to The Vicar Chronicles, which are described as "semi-fictional stories about the inner madness of the music industry."  The pubisher is fond of saying that the Chronicles are "Sherlock Holmes meets Spinal Tap."
Okay.  Youve got my attention.
This has grown into a multimedia project covering novels, graphic novels, videobooks, audiobooks and the first songbook by The Vicar himself.
So who is this Vicar?  All we know is that he's a record producer.  Brian Eno has had to declare that it's not him.  It's not Andy Partridge of XTC, although he claims to have worked with him.  Nick Cave professes admiration.  However, Robert Fripp (he of King Crimson) seems to have a shadowy part in the project.  Hmm.
If you're interest, visit the Vicar's website.  I think I'm going to start with the first novel, Chronicle the First: The Mysterious Case of Billy's G String and move on from there.