The vinyl shortage is hitting Nirvana fans hard
The recorded music industry continues to be plagued by a shortage of polyvinyl chloride, the raw stuff for making vinyl records. The effects are widespread, including for fans who were hoping to snag one of the 30th-anniversary box sets for Nirvana's Nevermind.
Greggory got this message.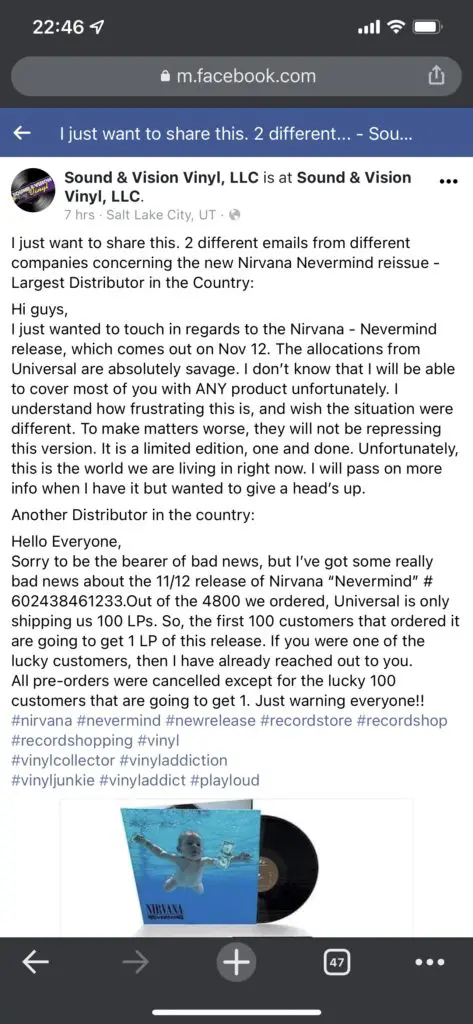 Watch for this set to turn up on eBay as purchasers look to flip their box sets for big money. Meanwhile, I've heard that the backorders for this box set indicate that the supply shortage won't be solved until late May or early June of 2022.
Meanwhile, there's this press release:
Beginning today, November 12, 2021, Geffen/UMe commemorates the 30th anniversary of Nevermind with several multi-format reissues. A total of 94 audio and video tracks–70 previously unreleased–will be made available across configurations ranging from Super Deluxe Editions to standard digital/CD and single disc vinyl with bonus 7-inch. In all formats, Nevermind is newly remastered from the original half-inch stereo analog tapes to high-resolution 192kHz 24-bit.

Among the previously unreleased material exclusive to various versions of the Nevermind 30th Anniversary Editions are four complete live shows that document Nirvana's historic ascension on the concert stage – Live in Amsterdam, Netherlands (recorded and filmed on November 25, 1991 at the famed club Paradiso); Live in Del Mar, California (recorded on December 28, 1991 at the Pat O'Brien Pavilion at the Del Mar Fairgrounds); Live in Melbourne, Australia for triple j (recorded February 1, 1992 at The Palace in St. Kilda); and Live in Tokyo, Japan (recorded at the Nakano Sunplaza on February 19, 1992).

All four newly remastered live shows are included in the Nevermind Super Deluxe Editions, which will be available in both vinyl (8LPs – 180-gram black vinyl – all in premium tip-on jackets — plus the new 7-inch – A-side: "Endless, Nameless" / B-side: "Even In His Youth" and "Aneurysm") and CD+Blu-ray (5 CDs plus Blu-ray – Live in Amsterdam, Netherlands complete concert video newly remastered audio & video in HD).