The War of 1812 Concert featuring the Tragically Hip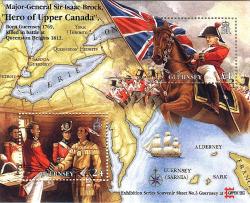 With the 200th anniversary of the War of 1812 coming this summer, there's been all kinds of controversy about how best to commemorate the conflict that shaped present-day North America.
The Americans have been somewhat revisionist about who won (don't let them sway you because we did; well, the British did because Canada didn't exist yet). And let's not forget that the Brits pushed so far into the US that they burned down Washington.
And besides, we had Laura Secord on our side. Yes, she's more than just the name on a chocolate.
As part of the commemorations, Niagara-On-The-Lake, Ontario, will switch from selling kitschy souvenirs and jars of jam to busloads of seniors in town for the Shaw theatre festival to stage a pretty decent rock festival that should attract about 20,000 people, more than doubling the size of the town.
The June 30th gig will be headlined by the Tragically Hip and feature Death Cab for Cutie, the Rural Alberta Advantage and the New Pornographers. Everything will take place at Butler's Barracks. Tickets will go on sale Saturday at 10am ET for $69.50 plus all the service fees.
If you still need more Hip, they'll play a Canada Day show the following day at Burl's Creek in Oro, Ontario. It'll be the same line-up–and you'll be able to buy a two-fer ticket–admission to the Niagara gig and the Burl's show–for $99.50 plus service fees. And yes, there will be camping.