The Weezer Cruise: Day Two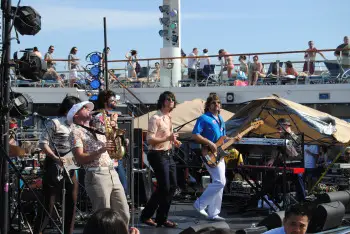 Weezer and several hundred of their closest friends are currently tooling around the Caribbean on a Carnival Cruises ship.  Here's the latest report from onboard correspondent Julia Wallace.
have a new favourite band, and they might just be the dorkiest band on the Weezer Cruise. Why? They have done the band-on-a-cruise-ship thing before. The bad news? Once was with Kid Rock. But when it comes to the Yacht Rock Revue (yes, that is really their name) this is forgiveable.
We stumbled across these guys while playing mini-golf on the roof of the ship. They were performing on the deck and suddenly everyone – those in the hot tubs included – was dancing. So down we went to check it out mid-Hall and Oates. They were covering hilarious yacht-rock ranging from Hall and Oates to Steely Dan. And they were doing it in head-to-toe polyester. No apologies.  It was no irony and all awesome.
So awesome, in fact, that my pal Anna was inspired to start a conga line with the shirtless bachelor party next to us who had been downing suspicious pink and fizzy shots.
After the show and over many glasses of lemonade, I learned the story of the Yacht Rock Revue. These guys met in Atlanta and formed as a joke ("let's get a bar residency and cover grocery store music!") But the joke became more popular than any of their independent bands and these guys opted to roll with it. Mark, a lovely boy from my favourite mid-western town of Ann Arbor sat with me as we rapped over Detroit record stores, how to sneak whiskey onto a cruise ship, and some the disturbing things he saw on that Kid Rock cruise.
While these guys mostly play covers, they are real musicians who come from really interesting places. They care about funk and northern soul, and refused to take themselves seriously.  They aren't too cool to dance in tight white pants.  And they won't be a cover band for long.
The original material is strong and they have acknowledged that what they are doing is a means to an end. They acknowledge and embrace the fact that the music world of huge advances and major labels of their youth no longer exists. In a funny twist, it appears that the bar band that broke up their "serious" bands but paid the bills might now be just the ticket they need to pay for Yacht Rock's first record and help to put them on the map.
So pay close attention, and let's bring them up to Canada. We need some of this southern fun in Toronto. I sincerely urge you all to check them out at www.pleaserock.com and support unpretentious music!
Besides, look at them.  What's not to love?
Tonight is Weezer show 2/3 – cover to cover Pinkerton and some b-sides. Rumour has it that Rivers is starting to get pretty creeped out. After seeing a very intoxicated girl make a rather aggressive and sloppy attempt at propositioning Mr. Bell this afternoon, I can't blame him.
But first, I venture to the Weezer Cruise singles party. I know Alan is laughing because as much as I love and adore nerds, this just screams musician slash computer programmer disaster.
More to come from Mexico tomorrow!
Weezer trivia. Nerd-tastic!