The Wife Says: iTunes Gift Cards = Merry F***ing Xmas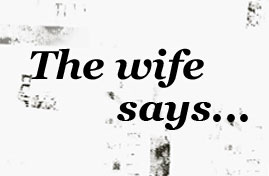 The last Christmas present has been mailed. The rest are wrapped, waiting for the tree to go up next weekend. Before American Thanksgiving! Even for an order-addicted German this is a bit of a record.
Why the haste? We go away in December. Sunshine to top up the warmth before January strips us bare. My deadline is a week earlier than yours. I also hate crowds. There's nothing like circling a parking lot like a vulture waiting for an open spot to strip away any last bit of Christmas cheer.
I started shopping last December. Wrappings on Boxing Day. A toy here. A purse there. Before you know it, you're done.
The satisfaction is muted because I've given in and opted for a few gift cards. I hate it-like cash as a wedding gift. Impersonal. Where's the lasting memory? How can you reminisce later over egg nog about that awful Rammstein album somebody mistakenly thought you'd like. (Sorry, honey.)
The other problem? You order somebody a digital present (an ebook or an album) and it's instantly delivered. None of this waiting for the big day and racing down the stairs to see what Santa left. Point, click, download. Merry F***ing Xmas and now let's move on.
It makes all kinds of sense. Better for the planet-no wasting fuel. Better for the wallet-digital's cheaper. Better for us-less to do, more time to enjoy.
The efficiency of gift cards should warm my anal, little heart.
And yet.
I like the bows. The opening of Advent calendar doors with chocolate-smeared fingers. The gift post-mortem. Who got what and, more importantly in a family with five kids, who got more?!
The other problem with iTunes and their ilk? Everybody will be done their shopping early.
My gloat turns to sulk.