The Wife Says: My Husband's a Slut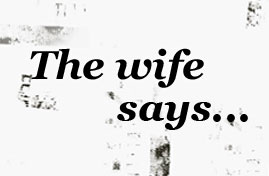 Men don't get repeat. If I want to drive my husband crazy, I let him sync my iPhone. (Okay, I don't know how to do it myself but can he make béchamel sauce?) He always checks out my playlist.
You should hear the outrage when he sees I've listened to "One" (The U2/Mary J. Blige version) more than 200 times or "Ain't No Rest for the Wicked" by Cage the Elephant even more.  [256 times and 301 times.-AC]
I'm a writer. I get in grooves. Music inspires me. One character is Blur's "Charmless Man." A different character requires Adele's "Someone Like You." Songs set the mood. Music as muse.
Women like the familiar. Knowing the words, where the chords change. Could be why women like hit music radio stations.
Men? It's all shiny and new. Musical terra nova. Give me something I haven't heard before.
Is it evolutionary? Testosterone driven? Let's see what's around the corner, over the horizon. Do men need that tingle of danger and discovery?
Does that make women (OK, me) boring? Staid? Stick in the mud? I don't think so. I love when he adds new songs to my playlist. Kind of like when you go to the video store (sorry, old analogy) and there were those shelves that said if you like this, you'll love this. Now computers use algorithms or something.
I like the new. But it's like buying shoes with high heels. You have to scuff up the soles, wear them around the house until they fit and feel really comfy. Make them yours.
Music is the same for me. I need to inhale it through my pores. Live the lyrics. Digest the melody. That takes time. I'm not boring. I prefer to think of myself as musically monogamous.
My husband?  He's a slut.