The Wife Says: The Grammy Nominations Put Christ Back in Christmas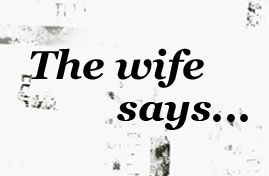 You'd figure with all the money to be made this time of year somebody would write a decent, hummable, not regurgitating-pumpkin-pie-over-your-new-Ugg-boots kind of Christmas song.
Nope. Everywhere you go are the old recycled favourites-Bing and Bowie. Tony Bennett.
The Beebs is making money over the holidays with a cringe-inducing duet with Look-at-me-I'm-got-my-waist-back-after-having-twins new mom Mariah Carey. She strokes herself in an abbreviated Santa suit while singing at the kid in "All I Want For Christmas Is You." What's more inappropriate than a cougar? A puma? A mastodon?
Come on. Admit it. The age difference is so obvious you wouldn't be surprised if he started to suckle.
Another Christmas song that is new to me is "The Christmas Shoes," about a boy scraping up money to buy a pair of shoes for his dying mom for when she meets Jesus tonight. There's a cheesy video on Youtube featuring Rob Lowe who was in a television movie based on this. I want my music to be evocative not maudlin.
My traditional Yuletide favourite is "Christmas Wrapping" by the Waitresses which nobody ever plays. Feels real in the midst of all the faux cheer.
And then there is "Christmastime is Killing Us" by Seth Macfarlane. He wrote it for The Family Guy and it features Stewie, whose voice I absolutely hate. But the song is somehow a good antidote to the diabetic-coma-inducing cloying sweetness of the season.
Not only that, it's nominated for a Grammy this year in the category Best Song Written for a Visual Media. Competing against Barbra Streisand! It's this type of thing that that convinces me there is a God.
Who would have figured?
The Grammy people just put Christ back in Christmas.