The World's Largest Musical Instrument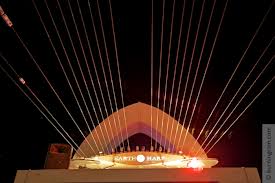 Since we're on the topic today (see the story about the world's largest drum kit I posted earlier today), we might as well talk about the Earth Harp, the world's largest muiscal instrument.
From the New York Times:
The Earth Harp is a string instrument that uses its environment to create the instrument. So a typical scenario for the Earth Harp is that the chamber or the resonator of the instrument would rest on the stage and mount on the stage and then the strings would run out over the audience and attach into the balcony of the theater or the architecture itself. So it actually uses the architecture to create the instrument.
The Harp used between 16 and 22 strings–it depends on the venue–and is played by plucking them with special gloves.