The World's Richest Drummers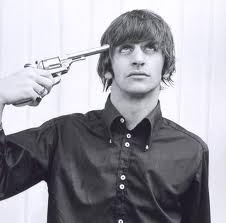 This isn't a phrase you'll see in many places–but it's a recent headline at Celebrity Net Worth.
No prizes for guessing the richest timekeeper. Ringo Starrr is poorest of the Beatles (alive or dead)–but he's still a freakin' Beatle. I'm surprised his fortune isn't more than a mere $300 million.
After that, though, you may run into trouble. I wouldn't have guessed that Phil Collins is #2 ($250 million), but when you think about it, that makes sense. The guy did sell a squidillion records with Genesis and a solo artist.
Dave Grohl at #3? Sure, although drumming is definitely secondary to what he does now. But he'll still suit up behind the kit for anyone who asks. I don't begrudge him any of his estimated $225 million.
Curious about the rest of the guys in the Top 30? Where's Lars from Metallica? Larry from U2? And the guy from Phish is worth how much?
#1: Ringo Starr Net Worth – $300 Million (The Beatles)
#2: Phil Collins Net Worth – $250 Million (Solo, Genesis)
#3: Dave Grohl Net Worth – $225 Million (Nirvana, Foo Fighters)
#4: Don Henley Net Worth – $200 Million (The Eagles)
#5: Lars Ulrich Net Worth – $175 Million (Metallica)
#6: Charlie Watts Net Worth – $160 Million (The Rolling Stones)
#7: Larry Mullen Jr Net Worth – $150 Million (U2)
#8: Roger Taylor Net Worth – $105 Million (Queen)
#9: Joey Kramer Net Worth – $100 Million (Aerosmith)
#10: Chad Smith Net Worth – $90 Million (The Red Hot Chili Peppers)
#11: Travis Barker Net Worth – $85 Million (Blink 182, The Aquabats)
#12: Stewart Copeland Net Worth – $80 Million (The Police)
#13: Alex Van Halen Net Worth – $75 Million (Van Halen)
#14: Nick Mason Net Worth – $75 Million (Pink Floyd)
#15: Tommy Lee Net Worth – $70 Million (Motley Crue)
#16: Bill Ward Net Worth – $65 Million (Black Sabbath)
#17: Jon Fishman Net Worth – $60 Million (Phish)
#18: Carter Beauford Net Worth – $55 Million (Dave Matthews Band)
#19: Rick Allen Net Worth – $50 Million (Def Leppard)
#20: Tre Cool Net Worth – $45 Million (Green Day)
#21: Danny Carey Net Worth – $40 Million (Tool)
#22: Tico Torres Net Worth – $40 Million (Bon Jovi)
#23: Max Weinberg Net Worth – $35 Million (Bruce Springsteen and The E Street Band, Conan O'Brien)
#24: Mickey Hart Net Worth – $30 Million (The Grateful Dead)
#25: Bill Kreutzmann Net Worth – $25 Million (The Grateful Dead)
#26: Neil Peart Net Worth – $22 Million (Rush)
#27: Taylor Hawkins Net Worth – $20 Million (Foo Fighters)
#28: Questlove Net Worth – $16 Million (The Roots, Jimmy Fallon)
#29: Steven Adler Net Worth – $15 Million (Guns N' Roses)
#30: Mick Fleetwood Net Worth – $8.5 Million (Fleetwood Mac)