The Worst Song of the 90s?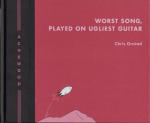 Rolling Stone's weekend poll was simple:  help contribute to create a list of the ten worst songs of the 90s. Any genre was fair game.
This required some consideration.  While the early part of the decade was pretty solid, what with the rise of the Alternative Nation, the Lollapalooza Generation and Britpop, the second half of the 90s produced some horrible swill.  And let's not forget Top 40 gems like "Mmbop," "Barbie Girl" and "My Heart Will Go On."
Here's my top ten with my choices restricted to just the alt-rock genre.
1.  "Tubthumping" by Chumbawamba
At first, I was happy to see these anarcho-punks finally get some attention after years of wandering the agit-prop wilderness.  Later, though, I just wanted them and this song to go back to their squat and stay there.
2.  "Discotheque" by U2
The Pop album was a rushed, unfinished project that (a) didn't live up to the expectations of the band; and (b) is considered to be a low point by 99% of fans.  Anyone know the last time they played anything from this album in concert?
3.  "I'll Be There for You" by The Rembrandts
Otherwise known as "the theme from Friends."  I've never been able to dance around a fountain in the dark since.
4.  "Nookie" from Limp Bizkit
Hard to believe but Bizkit used to attract tens and tens of thousands of people to their shows and they sold millions upon millions of albums.  I attribute this to end-of-the-millennium psychosis.
5.  "Arms Wide Open" from Creed
What?  Do I need to explain myself?
6.  "Perfect Day" by EMF
The same band who scored a major hit with "Unbelievable" on their first album, Schubert Dip, in 1991 turned in this kazoo-blowing clunker of a single in 1995.  I remember playing this once–ONCE–on the radio and thinking to myself "What the hell is this?"  Oh, leader Ian Dench is now making millions writing songs for Beyonce.
7.  "Smooth" by Santana featuring Rob Thomas
Never, ever liked it.  But things got so dire in the late 90s that this song was first introduced through alternative radio, mainly because matchbox 20 was, for a brief time, considered alt-rock.  Yes, it was a grim time.
8.  "Hippychick" by Soho
Built around a criminally vulgar use of the Smiths' "How Soon Is Now," there were lawsuits.  Good for Johnny Marr.
9.  "Closing Time"/Semisonic
Mawkish end-of-the-night last-call bar-closer.  I hope I never hear it again.
10.  "Two Princes" by Spin Doctors
I have an inexplicable hate-on for jam bands of all sorts.  It must be a genetic/chemical failing on my part.  But even if I was healthy, I'd hate this song.