The Ziggy Stardust Guide to Social Media Superstardom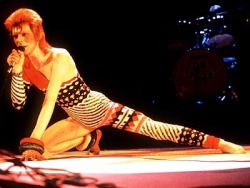 [I found this from Mark McGuinness, a coach for creative entrepreneurs. This is pretty good stuff. -AC]
Some are born famous, some achieve fame easily, and some work out how to make fame happen.
David Bowie's career hit lightspeed when he became Ziggy Stardust, but it was anything but a fluke or an overnight success.
In the seventies, Ziggy was futuristic. We are now living in the future— where news guys tell us earth may well be dying, and our brains hurt like warehouses from information overload.
Back then, fame was for the chosen few. Now, it's part of the job if you want to leverage the internet to find an audience for your art, subscribers for your blog or customers for your business.
Here are 7 tips to help you shine, based on the glittering example of Bowie's space-age alter-ego.
1. Some rock stars are made, not born
Before he hit the big time, David Bowie had been knocking on fame's door for a decade, as sax player and then singer with a succession of bands. At one stage he even gave up music in frustration and joined Lindsay Kemp's mime troupe.
We know him as a legendary singer-songwriter-performer. But to begin with, neither his singing nor stage presence were particularly compelling. And he was anything but a natural songwriter:
I didn't know how to write a song, I wasn't particularly good at it. I forced myself to be a good songwriter, and I became a good songwriter. But I had no natural talents whatsoever. I made a job of work at getting good.
~ Bowie interviewed by Paul Du Noyer for MOJO
Takeaway: If you're born with a fully-formed, effortless talent, good for you. But if not, don't despair — apply yourself with passion, ingenuity and persistence and you may be surprised what you can achieve.
Read the other six points here.