There will be a Nirvana reunion tomorrow. Sort of. (One guy will be missing.)
Dave Grohl loves to support charities ranging from events from his kids' schools, to a local BBQ fundraiser to bigger, flashier events. And he's at it again.
Tomorrow night is the annual Art of Elysium's Heaven is Rock&Roll gala in Hollywood. Dave not only agreed to perform but also offered to put the old band back together. Yup, Nirvana.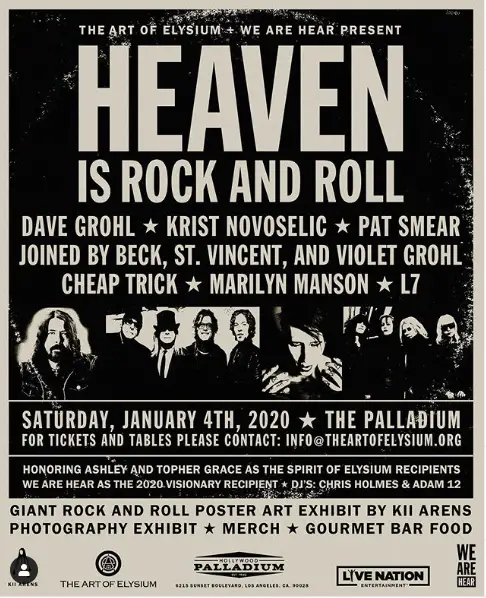 Er, wow.
Art of Elysium was set up in 1997 with to "support individuals in the midst of difficult emotional life challenges like illness, hospitalization, displacement, confinement, and/or crisis…We serve medically fragile children, teens, adults, seniors, those dealing with social, emotional and mental health issues and the homeless."
Will Dave and friends perform as Nirvana. Don't know, but Art of Elysium is offering a special Nirvana ticket package for a mere US$50,000.
A limited number of general admission tickets were available. It'll be interesting to track their selling price on the secondary market.