There's a class-action lawsuit against Ticketmaster Canada regarding ticket refunds. Are you eligible?
Did you buy a ticket to a show that was canceled or postponed because of COVID? If so, you might want to know about a new class-action lawsuit moving ahead in Canada against Ticketmaster. (Quebec has its own lawsuit going.)
A suit was originally filed against Ticketmaster Canada and Live Nation back in April and last month, it was certified as a class-action suit in Ontario. Representing everyone is lawyer Shayne Beaucage.
Here it is in a nutshell: It's alleged that people who bought tickets for shows that were somehow hit by COVID (cancelations, postponements, rescheduled gigs) were entitled to prompt refunds. They cite the terms of use outlined by Ticketmaster as well as consumer protection laws.
Ticketmaster disputes this, saying that all ticketholders had been provided with various options (including refunds) by November 30, 2020. Only 12 events had not been dealt with because refunds were not available prior to November 30, 2020. (See the table below.)
There has been a proposed settlement. Ticketmaster offered to compensate certain customers by giving then a $5 gift card per ticket. In addition, there would be a payment of $100,000. Total cost to Ticketmaster would be $137,545.
If you bought tickets to any of the following shows, you could be eligible for a piece of this.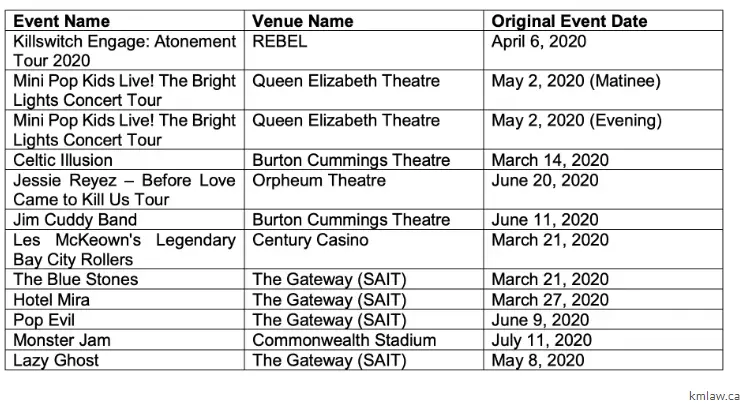 (Via DH News)