There's a New All-Vinyl Jukebox for the First Time in 20 Years
When I finally finish my basement and turn it into my dream home office, I want to have an old-school jukebox stocked with all manner of 45s. Great idea, but all those machines are rather old, somewhat finicky and can be difficult to maintain. If only someone would capitalize on the vinyl resurrection and build a modern jukebox.
Well, it's happened. Tom points us to The Vinyl Factory's story on Sound Leisure, a British company who is selling the first new all-vinyl jukebox to hit the marketplace in a couple of decades.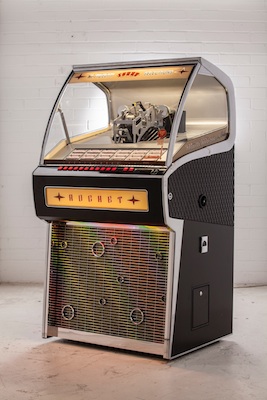 Based on the company's all-CD Rocket model, the vinyl Rocket can hold 140 45s and replicates much of the old-school technology in vintage machines. That was quite an accomplishment, given that there's shortage of people with the skills and knowledge to make the required mechanisms.
The new machine will make its debut at a classic auto show in London this weekend. The price? If the CD Rocket is any indication, expect something north of £5,000.