There's a petition to get Sloan into the Canadian Music Hall of Fame
[As a Sloan fan myself, I'm happy to help Emily Plunkett with her crusade to see Sloan inducted into the Canadian Music Hall of Fame. She wrote this plea. -AC]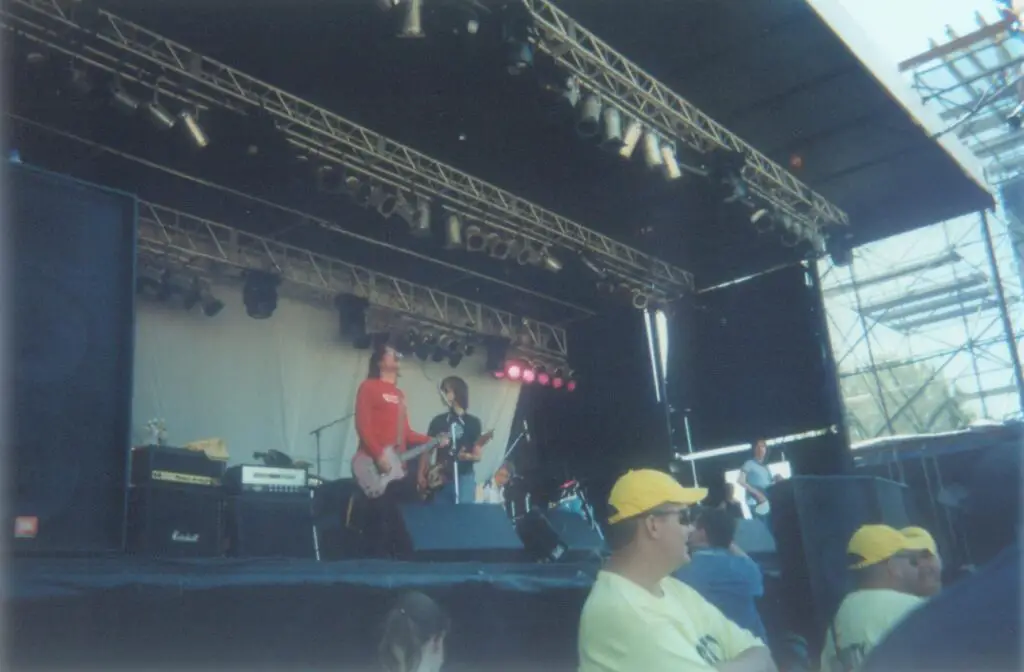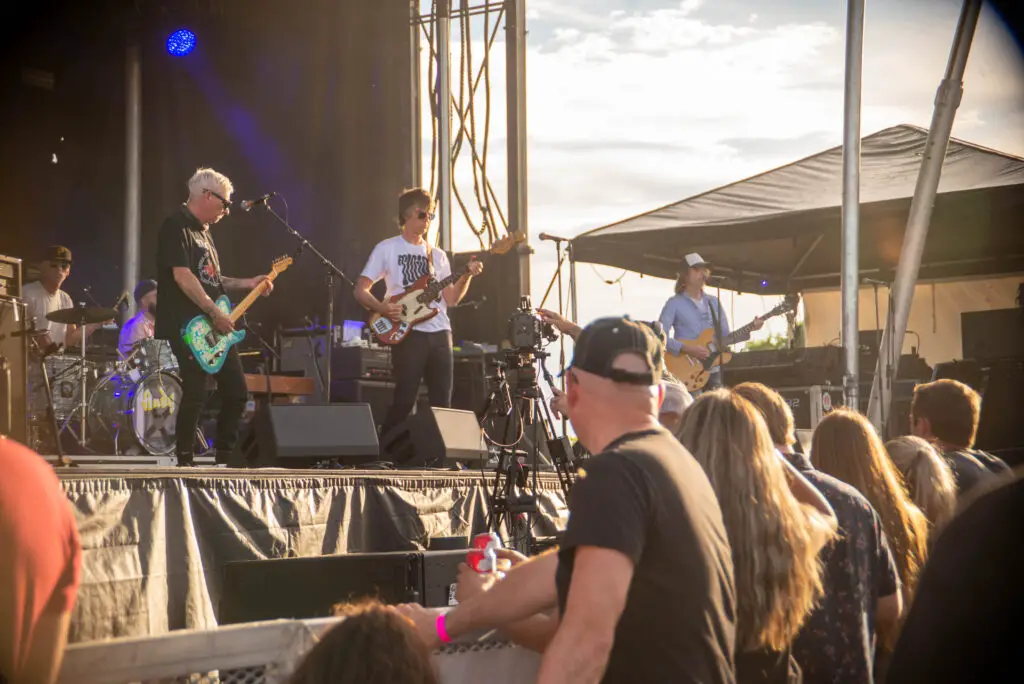 These two photographs were taken three weeks shy of 20 years apart.  The faded scan, originally taken with a disposable point-and-shoot camera, is from the 2002 edition of Sarnia Bayfest at Centennial Park; and it marks the very first time I ever saw Sloan live.  At the time, I owned exactly one of their CDs, knew none of the songs on the setlist (apart from that one song from the CD) and I wouldn't have been able to tell you any of their names.  But I knew then that I was in love with their pure and honest rock and roll that spoke directly to my teenage, classic rock-obsessed, heart. 
Fast forward to 2022.  Sarnia Bayfest has been spiritually replaced by Sarnia Borderfest, and my disposable point and shoot have been replaced by two hefty DSLRs.  But the concert festival set up at Centennial Park is still largely the same – and Jay Ferguson, Chris Murphy, Patrick Pentland, and Andrew Scott (with Gregory Macdonald rocking out too!) are still blowing my mind as they tear through "Sensory Deprivation," leaving the music loving citizens of my hometown as memorized as I am every single time I hear it performed live (which, by my last count, is now somewhere 30 to 35 times).
This is only a slice of what the most dedicated Sloan superfans experience every time the band's name or music is invoked in conversation or on the radio.  For us, the past 30 years of the band's career has been nothing short of a miracle.  In addition to this insane catalog of the finest power-pop rock that simply refuses to waver in its excellence, we've watched the band grow from humble beginnings as grunge's next big thing, to the reigning four kings of Canadian independent music; graciously giving countless other bands and artists the blueprint on what it means to be successful and influential within the Canadian music industry. 
Sloan are downright beloved, and now, a number of us Sloan superfans want to give back to our heroes in a big way – and we need your help!
For reasons that are completely unbeknownst to me or anyone else I've spoken to in the past year, Sloan has not yet taken their place in the Canadian Music Hall of Fame.  For so many of us, they're just as (if not more) important as the bands and artists who have already received the honour. Needless to say, I want this to change.
I originally proposed the idea of starting a simple letter-writing campaign to my fellow superfans over at the Sloan Selection Podcast and Sloancast in November 2021. The idea soon morphed into a full-blown petition in January 2022, which can be found at www.ipetitions.com/petition/sloan4CMHF.  As of this writing, we have 181 signatures on our petition, but given that we are less than 75 days from the release of Sloan's latest album, Steady, and about 52 days from the 30th anniversary of the release of their landmark debut album, Smeared, this feels pitiful and needs to be remedied. 
Personally, I've said the general goal is to get around 5,000 signatures, but on the down-low, I'd be lying if I didn't say that all I personally want is as much buzz as it takes to get them into the Canadian Music Hall of Fame before Nickelback. (Nothing against Nickelback, but Sloan has been more deserving for a far longer period of time!) Regardless of whether or not we reach either of these goals, the main thing is that we offer an opportunity for Sloan fans from across Canada and the world to celebrate this amazing band for their 30th anniversary. We invite all to leave a comment with their favourite Sloan stories while signing the petition, so we can share them on our official Instagram.  We also welcome anyone to come visit and chat with us at the Sloan Selection Podcast Facebook group, as we all excitedly await the release of Steady and chat about our next concerts. 
Sloan is one of the greatest bands that have ever graced the Canadian stage, and it's time that we came together to recognize their achievements with one of the highest honours available in Canadian music!  Please sign the petition to get Sloan into the Canadian Music Hall of Fame!