There's a Britney Spears Brand Lollipop Selling for $26. Wait–What?
WARNING: If you're evening THINKING of buying this, it will be interpreted as a desperate cry for help. Seek medical attention immediately.
They call it "couture pop," high-end bespoke lollipops with reusable interchangeable handles and a variety of flavour lollies to stick on top.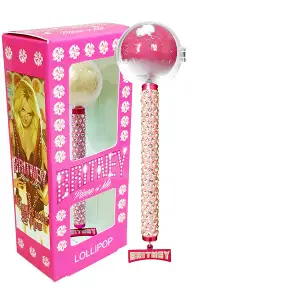 From Sugar Factory:
Our signature Couture Pop collections have already hit the red carpets in the hands of celebrities at exclusive events everywhere. It's not just candy, it's an accessory. Choose you handle, choose your lollipop flavor. Mix and match to express your unique style.
How f**kng infantile is this? Do NOT spend $26 USD on shit like this. Give the money to a homeless person instead.
(Via FYI Music News)